Part IV: Interpreting the Christian Life
Chapter 14: In Search of a "Personality" of Theology in Asia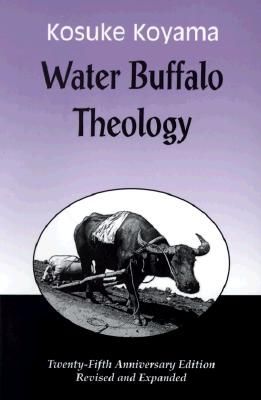 Note from when I originally wrote this: This morning at the pericope Bible study, as we discussed 2 Corinthians 6, I thought of Water Buffalo Theology by Kosuke Koyama. Paul mentions endurance, troubles, hardships, distress, beatings, imprisonments, riots, hard work, sleepless night and hunger (oh, those Pauline lists!)--all of these not-pleasant ordeals are about giving up, about crucifying, even the idea of Paul, so he could become the Christ for the Corinthians. Paul also speaks of purity, understanding, patience, kindness, love, being in the Holy Spirit and in the power of God…being cool about Paul in order to be both a cool servant and a hot servant of Jesus Christ. You know the rest of Paul's text: its essence is putting "no stumbling block in anyone's path." And he's telling the Corinthians please to do the same thing!
Although I'm not at all sure the cross has universally immediately understandable meaning, I am sure of its cosmic reach and ultimately cosmic meaning. The Reformers emphasized the ongoing process of conversion, saying only being
daily
drowned and
daily
raised in baptism was adequate for regenerating the person, for getting rid to the disconnected "I" and the unconnected "me." We need to remember despite his determination to preach "only Christ crucified," for Paul, Christ Jesus is always at the same time both crucified and risen, so when we preach the cross we also preach the empty tomb.
Also for this coming Sunday, Mark 4:41b: "Who is this? Even the wind and the waves obey him!" The Lord of the monsoon...
These days (actually it was during
those
days, back in Spring 2003) I'm also reading
Reading the Bible from the Margins,
by Miguel De La Torre, who says his
Hope College
students always give him the "litmus test" of asking if he has a personal relationship with Jesus, and he always replies he has a
public
relationship with Jesus! Isn't that part of what we're trying to get at here? Rather than being about "me," our evangelism and our ministry in general needs to be about the "other-than-me." And after all,
we, us, our and ours
are the covenantal, baptismal words. But those words are easy, and it's easier still and highly hazardous since too often we get involved in all kinds of miscommunication and inadvertently offend people when we don't know the culture, and maybe especially when we don't understand the religious background and experiences of the people we're evangelizing.
Cogently expressing what it means to lose what we consider our previous individual identity and take on the name of Jesus Christ and therefore the identity of
Christian,
Clarence Hilliard says all of us "need to become like the funky black nigger Jesus!"