Water Buffalo Theology
by Kosuke Koyama on Amazon
Chapter 4: The "Efficiency" of the Crucified One in the World of Technological Efficiency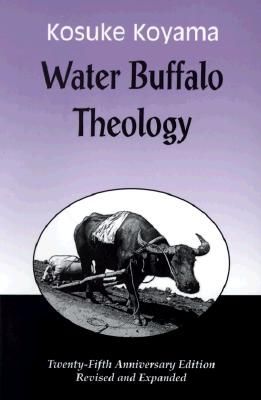 In Chapter 1 the author describes Christianity's way as
slow!
And now he's writing about the
amazingly
"inefficient investment" of God's nomadic peregrinations in the desert with the people "these forty years" to learn the people's hearts and to teach them one "does not live by bread alone." In this context, "investment" is an interesting word! But since we can't live
without
bread and all the other means of sustaining our earthly existence, God also remains faithful to providing for our material needs: "your clothes and your shoes didn't wear out on you." Partly because of this he logically observes, "The Lordship of God has a
historical
substance…It is the crucified Jesus Christ in Golgotha under Pontius Pilate." Koyama calls Jesus of Nazareth a "spiritual" Messiah, asks if technology should be our Messiah. "God is love" is intangible; technology is tangible. But is technology part of
God's
answer to our physical, earthly
needs
? Or is technology
humanity's
answer to our
wants
?
"Technological
shalom
…must sit in the
shalom
feast of the Messiah."
Because of technological advancement, Wal*Mart and comparable retailers may pursue and initially actually achieve some efficiency and economies of scale, but in the long run doesn't such a arrangement become burdened by corporate organizational and end up slowing down and ultimately denigrating many of the lives it sought to make more efficient?
One of our discussion partners observed:
I see every day the truth of Koyama's statement regarding the need for the completely different form of "spiritual" or "crucified" efficiency that comes from the inefficient processes of seeking God's presence. And any search takes time, patience, persistence, and a willingness to set aside "efficient" behaviors.
Amen!!!!!
The author cites a
World Council of Churches
study regarding the interaction between [local] traditional culture and religion and universal technological
civilization
[my italics]. He says when technology intrudes traditional ways usually rebirth and transform rather than disappear, and the traditional and the new/revolutionary "...meet only in people who shape them and value them." 2 Corinthians 5:18-19 - God in Christ reconciling to world to Godself and trusting the continuing ministry of reconciliation to us! That's why we're reading this book - to become better (and more efficient?!) ministers of reconciliation!