Late October 2007 update: on the PCUSA blog, Stushie recently wrote about picking blackberries.
My original title, since I needed to call is something:
Ecclesiology Containers Conveyers Packaging Freedom
Paraphrased from an internet search:
From 1950 to 1975, the now late Container Corporation of America ran an advertising campaign, "Great Ideas of Western Man," in periodical publications such as
Time
and
Fortune
. Bauhaus artist Herbert Bayer, who at the time was CCA's Art Director, commissioned eminent illustrators and designers to illustrate quotes from a many-centuries-long continuum of philosophers, writers, scientists, politicians, cultural and religious luminaries. But this is on desert spirit's fire, so clearly it's going to be theology!
Since around Christmas-time I have used up lots of time hankering after blackberries, checking the stores to find out if this week maybe they're on sale at a good price and getting a dozen packages whenever the blackberry acquisition fee has been right. I need to clarify I'm writing about edible consumables and not electronics—but you know that!
Interestingly, blackberries belong to the rose –
Rosaceae
– family, with thorns on their stems just like both wild and cultivated roses, and producing highly desirable results, just like roses. As they grow, the fruit-bearing older growth of blackberries makes brambles or briar thickets that sometimes seem impenetrable to humans, but serve as great refuge and shelter for some wildlife species. One easily could say the thorns, the brambles and those briars are a stipulation of enjoying the product: succulent berries. In other words, briarpatches are necessary conditions of having blackberry consequences! Yum! Although I enjoy other berries, especially straw and blue, so far as I'm concerned, blackberries wear the Berry Kingdom's crown.
My intro paragraph referenced CCA, and with bounded, boundless, contained, and uncontained I'm thinking sacraments and authority, too. One of the classical descriptions about sacraments cites them as evidence of the capacity, capability –
capax
– of the finite to contain the infinite.
Contain.
This is fire season in Southern California, reminding us a contained fire is not an extinguished one, but nonetheless, containment often leads to a beneficial outcome.
Just this past week a friend gave me my own copy of Brian McLaren's
A Generous Orthodoxy
:
Why I am a missional, evangelical, post/protestant, liberal/conservative, mystical/poetic, biblical, charismatic/contemplative,...emergent, unfinished...
by Brian McLaren,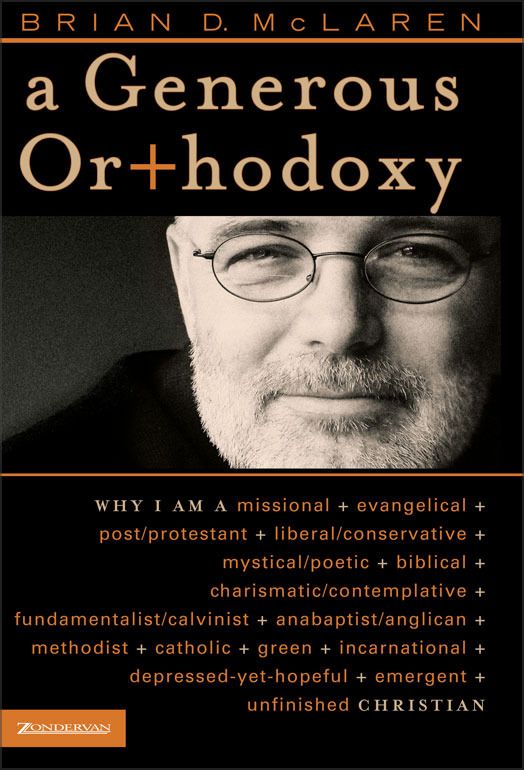 which has been on my Amazon wish list since I first heard about it. Without a doubt I'll be blogging about the book, but a few days ago I read at least one thing applicable to this blog I started a few weeks ago. Nothing I shouldn't have thought of, given this blog topic, but it was the word
permeable
. I'm writing about containers, containment, vessels, thorns, briars, roses, fruit and a long list of acquisitive concepts. Here in Alta California we live constantly aware of the permeability of the borders, the legal boundaries and sometimes the cultural ones between this territory and Baja California, but I want to compare the containers, boundaries and borders of ecclesiastical life with boxes, jars and envelopes where the content doesn't leak or scatter beyond the bounds, but the container exudes heat, or cold, or some kind of aura one can see or smell, maybe even taste. Compare ecclesiastical committees, judicatories and the formal "offices" (job descriptions plus associated buildings, floors and rooms) of denominational officers with briarpatches! At a later time I'll say more
again
about brokenness, shards, tatters and splinters, ruins and rubble: bread and lives, pottery, vessels, buildings, cities and civilizations, broken yet blessed and distributed ultimately to enable living as a result of that once un-wholeness.
Church buildings, and in many cases we find church complexes (double meaning intended) of not only a building with worship space or sanctuary but what we call a
campus
, with "country" as a possible connotation. Those buildings in some sense contain and in-clude the Church, the body of Christ, which is called to freely function as a living organism. In teaching and writing, often I refer to the Jerusalem Temple with its containerized deity, so remote from the free, elusive and infinitely faithful to creation Yahweh of the Exodus; frequently I talk about the Jerusalem Temple, so distant from God's self-revelation in Jesus of Nazareth. Jesus Christ shows us the Divine not in formal structures and intricate liturgical rites, but in fully real presence alongside creation and in total response to creation's needs. Roman Catholic ecclesiology tends to focus on more visible, touchable external structures – probably a too vulgar way of saying something from a
Traditio Protestantica
(Martin Marty's phrase—in any case I got it from him) perspective that doesn't state the reality more than marginally, while Protestant ecclesiology is more about invisible, intrinsic ones.
Containers, etc.: as I observed in conversation a few weeks ago, the UCC, PC(USA) and the ELCA are splintering seriously because "a human institution cannot contain that much diversity!" Of course the flip, the
B
side is "a human institution can contain only so much diversity." By definition, any institution has limits. However, logically, if something cannot be accessed, in some sense claimed and contained, it's not worth much to us. How about "God-moments" some people talk about? Are there times we can recognize God's presence while we're thick in the experience or situation, or is that acknowledgment possible only in retrospect?
Containers: printed bibles; internet scripture; paper and ink on our more recent ecumenical accords; I'm particularly thinking of the so dear to my heart
A Formula of Agreement
and of course, the
Joint Declaration on Justification by Faith.
Containers, packaging: the famous quote from Luther describing the Bible as the cradle in which the Word of God is laid. Luther railed against the way people try to domesticate, to
contain
God—again, recall the tamed and domesticated God (should be small "g" maybe) of the Jerusalem Temple and the Temple system's outcome in imperial religion? The Religion of Empire--perhaps similar to Dubya's far-flung, carefully-controlled empire. Remember the prophetic voices subsequent to The Temple's establishment: how about us, right here and right now? Do our words and do our actions help dis-establish imperial religion or do we make excuses to further entrench and ensconce it?
Regarding church buildings and their boundedness, a few days ago I told someone despite my feeling tremendously betrayed by the Protestant Mainline (caps?), still I cannot stay long away from the church; "The church is where I find the sacraments," I observed. Someone else mentioned Darrell Guder's in effect saying "God does not limit Godself to the means of grace." But speaking of boundaries, my semi-rejoinder to that needs to be, "Nonetheless, God does bind Godself to the means of grace." Think about it! Bounded freedom has become a familiar theological and psychological idea.
Another observation about
Generous Orthodoxy
: the author states he doesn't have the kind of formal theological education and credentials we in the mainline churches insist on; until he left in 2006 to pursue writing, McLaren pastored at the nondenominational
Cedar Ridge Community Church,
and a quote from Karl Barth banners the church's site. McLaren grew up in what he approximately describes as a twig on a branch on a limb of a church in a very conservative church tradition. Despite having been an English major and a professor of English, doubtless by now he's read a whole lot of theology, but he has not laden the first part of the book with heavy God-speak and the accompanying vocabulary we who have attended high-end and other seminaries regularly use to spice our speech.
Brian McLaren's intellectual abilities are what we hope for in
our
(possessive intended) churches that have a well-articulated, formal and long process for eventually attaining and obtaining (possession again) what we call ordination to Ministry of Word and Sacrament. One of the questions of any candidate for seminary and eventual ordination by a described, delimited ecclesiastical body (presbytery, diocese, conference, synod) remains "Does this person have the intellectual gifts?" Sacraments: by what and whose authority does the presider recount the history of God's faithfulness and invoke the presence of the Holy Spirit upon the gifts of bread and cup? Authority? By what authority are Brian McLaren and the other staff at Cedar Ridge Community Church declared ecclesiastical leaders? Checking them out, I noticed all of them have excellent academic qualifications but no formal theological ones. We talk about authorized ministry, whether commissioned, licensed or ordained; we also insist on a formal call or appointment process. "We" as opposed to "they"? "Us" and "them?" In the mainline Roman Catholic and Protestant and in the more conservative churches, we claim the Holy Spirit as ultimate authority, despite the human(oid?) appearance of those assorted Committees on Ministry and local church Call Committees.
Here's a relatively recent hymn:

God Marked a Line and Told the Sea



God marked a line and told the sea its surging tides and waves were free
To travel up the sloping strand but not to overtake the land.


God set one limit in the glade where tempting, fruited branches swayed.
And that first limit stands behind the limits that the law defined.


The line, the limit, and the law are patterns meant to help us draw
A bound between what life requires and all the things our heart desires.


But discontent with finite powers, we reach to take what is not ours
And then defend our claim by force and swerve from life's intended course.


We are not free when we're confined to every wish that sweeps the mind.
But free when freely we accept the sacred bounds that must be kept.


By Thomas Troeger, 1986; © 1989 Oxford University Press, Inc.
Christian marriage is a covenant; Jewish marriage is a contract. We Christians emphasize the covenantal nature of our interrelationships with one another and especially our relationship with the God of the covenants, The One those New Englanders of yore insisted never dealt with, interacted with humanity, with creation in any way other than covenantally. Do we in the churches need to look carefully at the contractual sides of our lives together?
To be continued.