Here's another essay on another chapter of
a Generous Orthodoxy
; I'm not sure how many more I'll blog, at least at this time.
A Generous Orthodoxy
:
Why I am a missional, evangelical, post/protestant, liberal/conservative, mystical/poetic, biblical, charismatic/contemplative,...emergent, unfinished...
by Brian McLaren on Amazon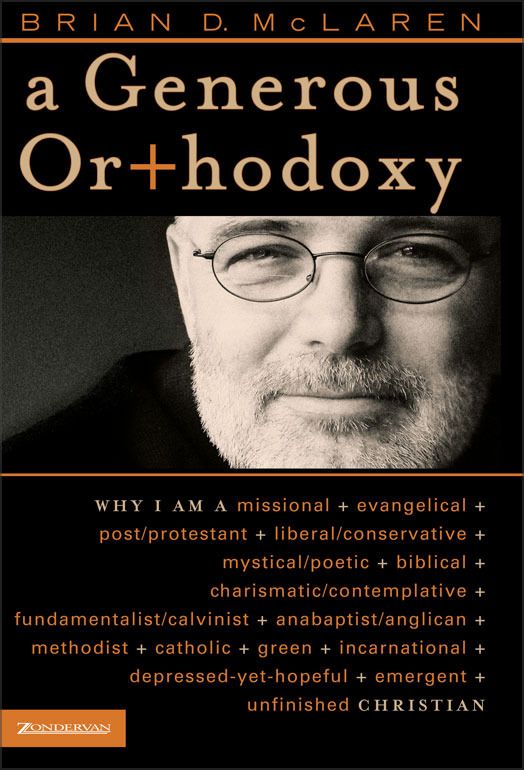 In general I'll also go with the softer
Charismatic
rather than the harder-edged
Pentecostal
. In the chapter's first paragraph Pastor Brian says his "life was deeply and forever enriched by association with charismatic (or Pentecostal) Christians." I can say the same thing, especially during my most recent sojourn in Massachusetts. The first couple months I was there I worshiped at a mostly Black (African-American and Caribbean) Pentecostal church and later on Cape Cod sometimes attended Sunday evening worship at the
Mid-Cape Assembly of God. I also painted a float and did some other stuff for that Dennisport AG's involvement in the annual Cranberry Festival. Pastor Henry Perry's officiating at Heather's dad's funeral was a real personal and theological class act, but after all, he'd been an engineer who heard God's audible voice telling him to become a pastor! That I would learn to listen and to hear...
On page 195, Brian McLaren says, "If charismatics gave me my high school diploma in the ways of the Spirit, it was from Catholic contemplatives that I entered an undergraduate degree in the liberal art of the Spirit." He writes about the RC tradition locating experiences of the HS "in the very
center
of normalcy" rather than "one step
beyond
the normal." They've got it! Just like the church we read about in
Acts
, the same church that moved outward from Jerusalem - all the way to where I am and where you are - led by the Same Pentecostal Spirit!
What you could call Father Thomas Keating's Centering Prayer Movement (though it's not really his at all—he wonderfully helped recover the ages-old practice) has been a gift to me and to the ecumenical church, besides crossing and often almost obliterating differences and distinctions between Christianity and other faith traditions.
That's all for this blog.
###