Late this morning we drove south toward growing, increasingly dynamic
Sierra Vista
to
The Nature Conservancy's
amazing
Ramsey Canyon Preserve.
Some notes from the site:
Ramsey Canyon, located within the Upper San Pedro River Basin in southeastern Arizona, is renowned for its outstanding scenic beauty and the diversity of its plant and animal life. This diversity―including such highlights as 15 species of hummingbirds―is the result of a unique interplay of geology, biogeography, topography, and climate.

Southeastern Arizona is an ecological crossroads, where the Sierra Madre of Mexico, the Rocky Mountains, and the Sonoran and Chihuahuan deserts all come together. The abrupt rise of mountains like the Huachucas from the surrounding arid grasslands creates "sky islands" harboring rare species and communities of plants and animals. This combination of factors gives Ramsey Canyon Preserve its tremendous variety of plant and animal life, including such southwestern specialties as the lemon lily, ridge-nosed rattlesnake, lesser long-nosed bat, elegant trogon, and berylline and white-eared hummingbirds.

A spring-fed stream, northeast orientation, and high canyon walls provide Ramsey Canyon with a moist, cool environment unusual in the desert Southwest. Water-loving plants such as sycamores, maples, and columbines line the banks of Ramsey Creek, often growing within a few feet of cacti, yucca, and agaves. Communities ranging from semi-desert grassland to pine-fir forest are found within the vicinity of Ramsey Canyon Preserve.

Ramsey Canyon and the Upper San Pedro River Basin are situated within the Apache Highlands ecoregion, which encompasses central and southeastern Arizona, southwest New Mexico, and the northern Sierra Madre of Mexico. These programs are part of a science-based ecoregional approach to conservation in which the Conservancy works across broad landscapes with many private and public partners, sharing resources and knowledge to expedite the protection of species and habitats throughout the state.

Together, The Nature Conservancy works with partners to achieve much greater success than any one entity working independently. Multiple partners also ensure a broader perspective and more enduring conservation solutions.
As contrasted with
(here's my Southern Arizona Travelogue)
two years ago, this time we got some updated trail guides―adult's and kid's versions. I'd like to quote some from both, but that'll have to wait until I have a little time to sift through and select some of the most interesting stuff.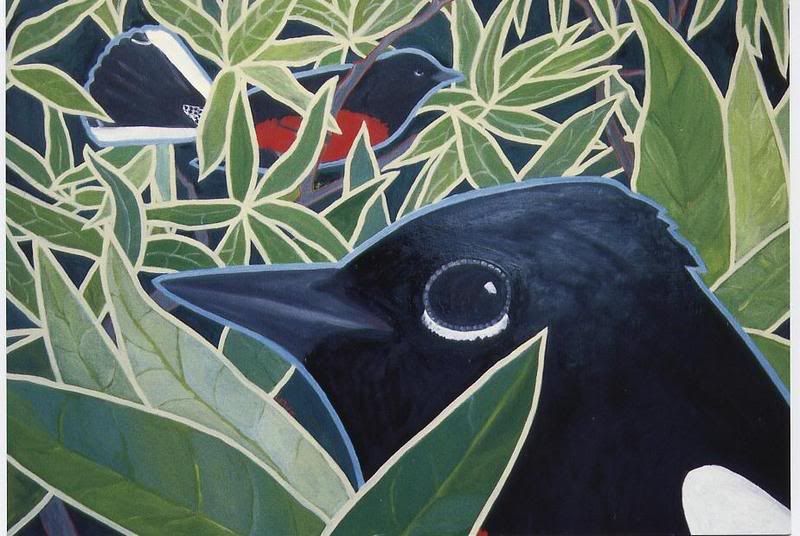 At Boundless Gallery I bought this glorious bird card by Lisa K. Walraven; the self-titled site listed on the back of the card wasn't live when I tried.
Returning to Tucson through Sierra Vista, we stopped for late lunch at a
McDonald's
characteristically decorated with southwestern desert textiles and metalwork.