Sally from Eternal Echoes gives us today's wonderful(ly impossible) Friday 5 plus bonus; I'm playing it as a 4 + 1, and in the interests of actually doing something, I've limited myself to the past century.
I have spent the week at Summer School studying the Gospel and Western culture, we have looked at art, literature, music, film and popular culture in their myriad expressions. With that in mind I bring you the cultural Friday 5.
Name a
1. Book
Markings
by Dag Hammarskjold
2. Piece of music
Symphony No. 3
by Roy Harris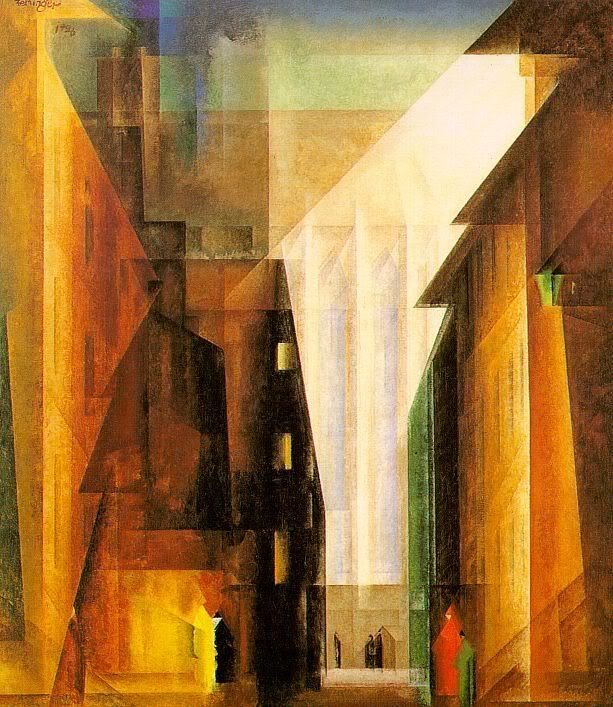 3. Work of art
Lyonel Feininger's
Church of the Minorities
4. Film
None—I don't do cinema, can't track a narrative or interpret anything on any level.
5. Unusual engagement with popular culture that has helped/challenged you on your spiritual journey.
This question is broadly ambiguous, but what immediately springs to mind is the way I often refer to current or older song lyrics when I'm teaching (and, depending on my audience) sometimes in preaching. Long ago I discovered it was a rich way of connecting people with our common experiences and perspectives.
Bonus: Is engagement essential to your Christian faith, how and why?
I don't quite get what this means, and as usual, haven't read anyone else's before playing, but this feels like an exam question...well, yes. As a performing musician, graphic artist and writer, the fine, expressive and performing arts have been a huge part of my ministry, and these days I'm looking for a setting or settings where people truly will care about the intersection of the arts in terms of high culture (
kultur
), popular culture, theology and liturgy.