By Barbara Kingsolver,
Animal, Vegetable, Miracle: A Year of Food Life
on Amazon
This was RevGalBookPals discussion, hosted by Cathy Knits and Mary Beth.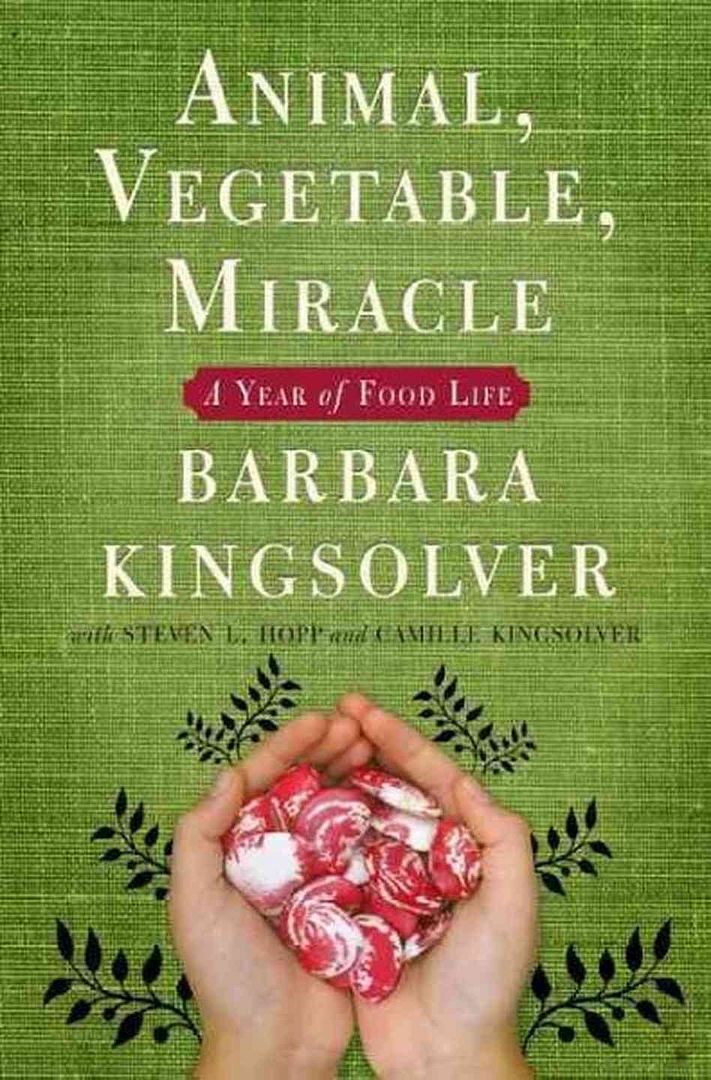 Despite my earlier excellent intentions to buy or borrow this book, I didn't, so no way will I presume to assume anything about this book itself, but I'll respond to Cathy.
3. One of the ways that the book has influenced me was to encourage me to search for alternative options for obtaining our vegetables. Our family subscribed to a gardening subscription service (community sustained agriculture) in which we receive our vegetables from a organic gardener. It's one step that we have taken that we found works for us. How has this book changed how you are eating or purchasing food? What alternatives are available in your area?

Now for fun... what is a local food that is unique to your area? For example, grits is a main staple where I live (YOU SHOULD SEE THOSE GRITS FIELDS). For some of you, you may have never eaten it. So.... suppose I came to your place and visited. What would you want me to have that would be a part of your world?
Alternatives in my area
include a Saturday Farmer's Market a few streets over; a couple of sort of chain (meaning more than once of each) food stores that both have great produce, but their "natural" brands of packaged and scoop-out-of-the-bin cereals and other grains, etc., are about on a par with the no-name stuff at the 99¢ Only store, which, by the way, is a fabulous source for fresh, inexpensive produce, often in extensive variety. During the berry season I shop there 2x or 3x a week.
Some of my own culinary history
includes growing up eating lots of Southern and Midwestern food, and I still love those Americana basics, though nowadays I cook and eat very little of either aside from what someone may bring to a church potluck. As a young undergrad shopping on my own for the first time, I used to be ecstatic whenever I found my favorite fruits and berries in the market out-of-season, but it took me forever to discover they'd been engineered to be long-keepers that could be hauled long distances without spoiling, and I still haven't quite learned flavors and textures from faraway lands usually aren't as irresistible as those locally grown. Pretty much forever I've eaten low on the food chain and can be very happy with lunches of rice and beans; virtually every day I enjoy a basic (rice, beans,
pico de gallo
and sometimes potato) burrito for lunch or supper. At an informal sit-down restaurant I'll often order a burger, and make a point of announcing it's "my annual burger," though that's just for effect, since I eat more like 2 or 3 per year than just 1, because you can't eat just one.
When you visit this part of the world
, I want you to enjoy the avocados that abound in these here parts—I'll make guacamole and a bowl of last Friday 5's 7-layer dip; how about some cheese from Happy Cows and several glasses of inexpensive varietal California wines (white is my preference, though you're welcome to red)?! Mexican culinary influences run high in the Southwest, especially styles and flavors from the northwestern states of Baja California and Sonora, and I'd love for you to feast on a well-stuffed fajita burrito, either on this side or that side of the international border. I really like
carne asada
, but will be happy to fix vegetarian or
pollo
instead.
Regarding food and ministry
, the church I served on the East Coast had a backyard field, and a couple of apartment-dweller members planted their own gardens. I'd like to see that happening elsewhere, though both that neighborhood and one in High Desert City had community gardens where you could rent a plot for a nominal charge. In terms of current ministry, of course there are potlucks, and one of my current churches hosts a monthly First Saturday Lunch that often includes offerings from member's own gardens. In spite of a relatively short season, Nick, my East Coast friend, grows flowers, veggies and berries, and he's the only person I know of who consistently maintains a compost, something my grandmother always did. My Tucson friend, Carla, who lives in a fairly dense residential area, has at least a dozen, very productive citrus trees and on another note, has a National Wildlife Certified Wildlife Habitat
TM
. Thanks, Cathy and MB—now to read the book (and
GO, GRITS!)
.