In her
Diakonia!
post last May,
T
explained,
Diakonia means service. In my call to Diaconal ministry, I am called to pick up my basin and towel; to serve God in Word and service; bridging the gap between the church and the world.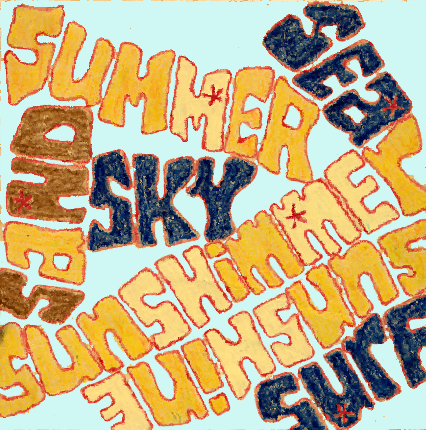 Tara of
Praying on the Prairie
is a Diaconal Minister of Word and Service in the
ELCA
, succinctly summed up as "Towel and Basin Ministry." Lately I've been thinking a lot about some implications of service (=ministry) in general, and about possible meanings of basins, bounded containers for water that in turn becomes an agent of cleansing, refreshing, renewal and—baptism; I've been considering the usefulness of towels, too. Here in this part of the world, in Paradise, we possess an extreme Surfing Culture. The Towel is an essential part of a surfer's equipment. Functional? Oh, yes, very! As a changing booth, because sometimes you need to get into that wetsuit and there's no nearby fixed shelter, so in that situation, your towel needs to be big enough to hide behind; surfer towel uses include drying off, of course; wiping away sand and seaweed; loaning to a friend in need, who maybe lacks a towel or only has a completely soaked towel. To use in place of the sweater or jacket you somehow forget to bring along with you, because by late afternoon the days get cool and clouds can appear out of nowhere at almost any time.
In the past few years I've bought several inexpensive and wonderfully colored towels made in Bangladesh and Pakistan, in every case expecting superior absorbency and drying power, probably because cotton from geographically not too far away Turkey has such a great reputation. As much as I detest stereotypes and do whatever I can to dispel them, I believe in Turkish cotton's reputation for drying well, and I have at least a half-dozen Indian [from the same sub-continent as Bangladesh and Pakistan] cotton shirts that are comfortable and soak up the sweat however hot the weather gets. Although the aforementioned towels definitely get the basic drying done, I'd discovered that more expensive domestic cotton that's been given extra treatment dries more thoroughly and effectively.
As we read the book of Acts, we discover the nascent church first ordained not ministers of word and sacrament, not elders for formal (bureaucratic) leadership, but deacons, bearers of towel and basin, helping grow the early church into a body of servants in the image of the servant God, who self-revealed in Jesus of Nazareth as "one who serves."
1 Now during those days, when the disciples were increasing in number, the Hellenists complained against the Hebrews because their widows were being neglected in the daily distribution of food. 2 And the twelve called together the whole community of the disciples and said, "It is not right that we should neglect the word of God in order to wait on tables. 3 Therefore, friends, select from among yourselves seven men of good standing, full of the Spirit and of wisdom, whom we may appoint to this task, 4 while we, for our part, will devote ourselves to prayer and to serving the word." 5 What they said pleased the whole community, and they chose Stephen, a man full of faith and the Holy Spirit, together with Philip, Prochorus, Nicanor, Timon, Parmenas, and Nicolaus, a proselyte of Antioch. 6 They had these men stand before the apostles, who prayed and laid their hands on them. [Acts 6]
In the Church, the stole, actually a kind of towel, forms a visible, symbolic yoke of service worn by people ordained to Ministry of Word and Sacrament. And especially in recent years, a lot of us have discussed the ordinance of foot-washing as sacrament or sacramental—after all, it mostly fits the protestant criteria for
sacrament
: earthly matter and direct command of Jesus (at his last earthly meal with his disciples the church celebrates in its Maundy Thursday liturgy):
Jesus, knowing that the Father had given all things into his hands, and that he had come from God and was going to God, got up from the table, took off his outer robe, and tied a towel around himself. Then he poured water into a basin and began to wash the disciples' feet and to wipe them with the towel that was tied around him. [John 13:3-5]
but it doesn't include accompanying words, beyond Jesus' reply to Peter's objection to his Lord washing his feet, in that culture typically the task of
the
lowliest servant:
Peter said to Jesus, "You shall never wash my feet." Jesus answered him, "If I do not wash you, you have no share with me." Simon Peter said to him, "Lord, not my feet only but also my hands and my head!" Jesus said to him, "The one who has bathed does not need to wash, except for his feet, but is completely clean." [John 13:8-10]
...in humility both serving and being served; giving a gift and receiving a gift. I'm blogging this partly as response to
T
and partly because of concerns of my heart, and I'll mention there are all kinds of deacons and diaconates; almost every church body or denomination has a deacon equivalent serving primarily to assist with more temporal, physical needs (food, rides to appointments, etc.) within the congregation, and the
ELCA
has a slew of people in a bunch of professional diaconal roles and callings. But it's interesting that despite the fact 21
st
century deacons usually limit their service to within a particular local church, historically the deacon has been called to serve not the church but the surrounding community, and historically deacons have been consecrated (or in some cases, ordained) by the bishop or overseer of the judicatory. Seems as if lately the needs within the congregation get attended to before those outside. Sad, because ministering to the world around us can become such a powerful way of incarnating Jesus Christ, the definitive revelation of the servant God. Please read all of John 13; thanks!