...14th annual
el otro lado del otro lado || the other side of the other side
This is a slice of Gloria Caballero's painting of the Tijuana Lighthouse; although unlit, its brightness and elevation formed a beckoning beacon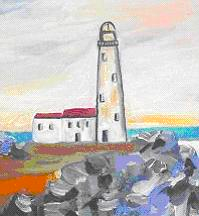 Saturday afternoon from 3:30 until dark when a couple hundred of us gathered on each side of the international border at Border Field State Park in Chula Vista – "Lovely View" – where Alta California and Baja California meet each other. We sang and prayed; we heard words of hope, hospitality and freedom. Getting there took some effort this year because everyone had to park over a mile away and trek through the sand. When we tried walking through loose sand our footing was unsteady and difficult, but closer to the shore the ocean water packed the sand, making it firm enough to walk in relatively comfortable safety. Nice metaphor that reminded me "On Christ the solid rock I stand; all other ground is sinking sand."
Before
sun country living
became my design blog, the first 24 posts were random, sometimes unworked-through ideas, including some from my commonplace books. Related to this topic of borders,
this post
quoted from an old series of AT&T (print and television both, I believe); here's what I blogged:
At least talk to each other!
Divisions evolve from the barriers we construct
Evol/Love (in addition to the print ad, I saw this one in a video at the Museum of Science and Industry in Chicago)
Meet somebody halfway
Out of a sense of self, a sense of the other
Reach out for someone
Understanding begins with communication
There's something you can do about it ... meet somebody halfway ... to communicate is the beginning of understanding!

...did someone say "speech is the language of covenant?" I read that somewhere and I completely agree!
the descriptive intro ¶ in the
posada
bulletin explains
All the world's great religions recognize hospitality for the stranger as a sign of mature faith. La Posada is a reenactment of the Bible story of Mary and Joseph who, while sojourners in Bethlehem, were forced to seek shelter on the night of Jesus' birth. It is a venerated Christmas tradition across the Americas. BTW, this drawing of a couple and their donkey is a scan of the event bulletin cover; I don't know the artist.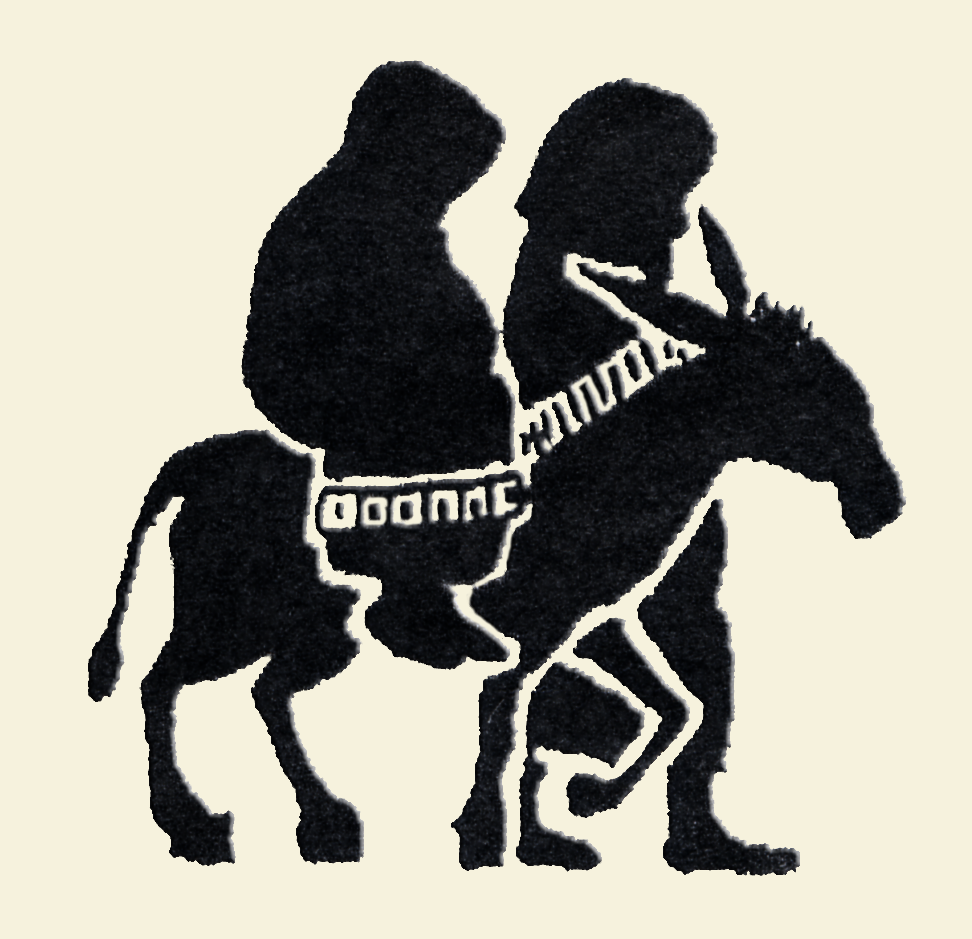 This resonates immensely with our Advent discussions about God from the exceedingly other side (heaven) coming to this side (earth) in order to make a home among the people—
un hogar entre humanidad!
God's makes
shekinah
, tabernacles, pitches a tent in order to journey alongside creation; in Jesus, God makes a
posada sin fronteras
, a boundless dwelling! "Posada" implies more of a fixed and reliable stopover place than it does a portable carry-on-your-back tent, but as image and reality of God's essential call to hospitality, the posada concept works as well as the tent.
Along with the contemporary Mexican church we celebrated hospitality with a party to welcome the Holy Family, and akin to practice of the ancient church, we also mourned those who have died crossing the border, responding "presente" to the reading of each name:
present to God
, finally at home.
This years theme was
Families without Borders;
Mexican sponsors included Casa del Migrante, Comision Nacional del los Derechos Humanos and Arquidiocesis de Tijuana/Pastoral de la Movilidad Humana. American Friends Service Committee, Ecumenical Council of San Diego and Interfaith Coalition for Immigrant Rights were among the many posada sponsors on this side of the border; happily, the sponsors list is too long reasonably to include in this type of blog. Note that the border fence extends out into the Pacific surf...
When I
blogged about
Miroslav Volf's
Exclusion and Embrace:
A Theological Exploration of Identity, Otherness, and Reconciliation
, I quoted from the author:
"...baptism into Christ creates a people as the differentiated body of Christ…[which] lives as a complex interplay of differentiated bodies—Jewish and gentile, female and male, slave and free—of those who have partaken of Christ's self-sacrifice. The Pauline move is not from the particularity of the body to the universality of the spirit, but from separated bodies to the community of interrelated bodies—the one body in the Spirit with many discrete members." –page 48
As singulars or as plurals, whether we stand face-to-face or shoulder-to-shoulder, inevitably and invariably we are on each others' other sides. I do not and cannot know myself
other than
vis-à-vis another. When you are not there I am
without a mirror, have no reference and cannot define or describe myself. How many people have said, "Don't listen to other people"? I have no choice but to listen, because God formed me for community, has called me into communities of humans, of creation and of the Church, charging me to live as other to my other. 'Nuff said!
Because Families Without Borders – Familia Sin Fronteras – is this year's emphasis, each of us on this side received a
familia sin fronteras
bracelet to wear. When will difference and differentness be celebrated and welcomed? When will all of us become and live as safe posadas where our others can find a dwelling place and sacred space? If we hear the Spirit's call and trust the Spirit's provision, that parousaic time soon will be this eternal now. Amen? Amen!