Jan outlines today's On Your Feet! 5... and I'll start out by remembering the biblical injunction to "wear sandals" along with "take off your sandals: you are standing on holy ground." Shaking off the dusty dirt from a negative encounter with an inhospitable community is easier if you don't need to untie your shoelaces and for sure an
experience of the Holy Other requires no space between you and the earth we're born from and return to. Preaching barefoot?! But of course! Proclaiming and even trying explaining the gospel is an awesome, intimidating, daunting, sacred experience of Holy Otherness, and relying on the Spirit may be a bit easier with ongoing awareness of feet unshod. Besides, when you're barefoot you feel and sense otherwise imperceptible shifts and movements in the ground beneath you. So what does that say and what might you say about the promised constant Presence of God? For those who insist on referencing Isaiah's and other ancient chroniclers' "with twain they did cover their feet," I insist on reminding them that in scripture sometimes "feet" simply means the part of the body we use for walking and for making the path that wasn't evident or even there at all before we got to that place—sometimes it means:
feet.
Now on to Jan's 5:
1. currently flip-flops are my favorite footwear.
2. although it's definitely not the craziest shoe, boot, or sandal I've ever worn, I'll cite my experiences going through airport security post-911 wearing taller than ankle-high boots with lots of laces. Never again; that taught me!
3. as a little kid and as an older teen, I wore sneakers/ tennies a lot and loved wearing sandals during the hot summer months. At university and in social work school in the wintery Northeast I always tried to wear sandals until around Thanksgiving – late November in this country – but didn't always make it quite to then.
4. for feet (and body) feelin' "most comfortable" I used to enjoy bare feet, especially in the house, but weather permitting, these days I'll pick a pair of flip-flops. In ages past I loved the woven leather huaraches we still can get across the border in Mexico, but for the past dozen years they've been hard to find elsewhere.
5.
about socks
: with closed shoes other than the chunky-heeled "heels" I occasionally wear, always, always socks. If I'm wearing jeans, long pants or a floor-length skirt, they need to be conventional ankle socks. With shorts or a short skirt, short socks (I'm not sure of the proper terminology). And our nearby
99 cents only
store has wonderful, often name-brand sock bargains!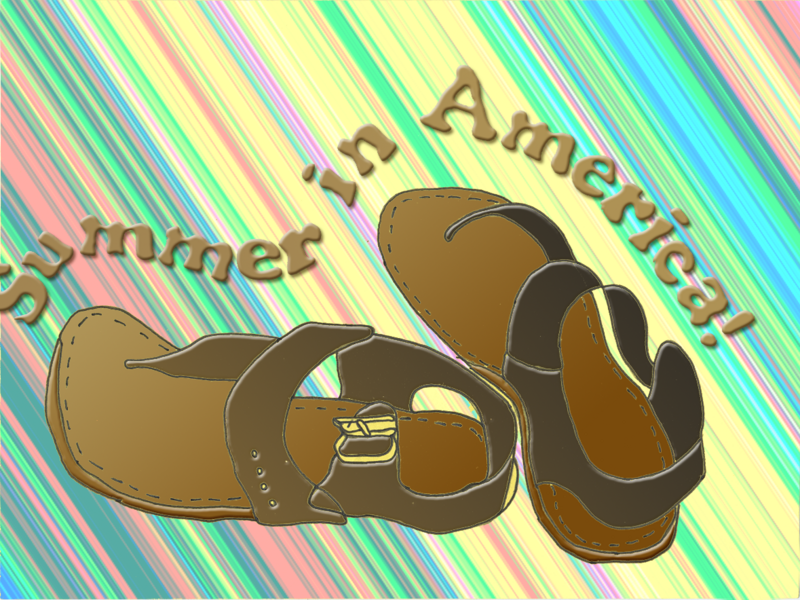 Bonus
: I began this 5 with a couple of footwear facts and now I'll tell about the two pairs of wonderful custom-made brown leather sandals I had made by the First Settler Workshop in the shadow of Faneuil Hall in Boston. Also, I used to love Tevas and wore out several pairs, but now they seem way too last-century. Finally, I digitized the sandals illustrating this blog from an outline drawing I made of some of my all-time favorite sandals. Out of a dozen versions I've chosen two with "Summer in America" because the season of summer holds connotations of productive living that consistently bears ripe and healthy fruit.