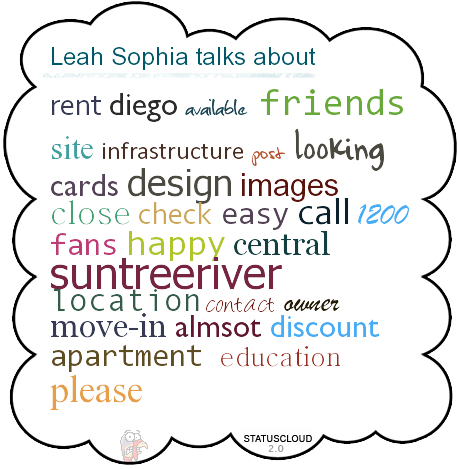 day 27 of 30: 1-week facebook status cloud...

thought I'd use a monospaced font to contrast with the typographic variety in my cloud...

What's been going on? The past seven days of (always well-guarded) facebook status topics have included design, images, suntreeriver, fans and friends. "infrastructure" related to Afghanistan, but given my background in urban affairs it could have referred to local streets and roads. With words like central, discount, apartment, rent, move-in and 1200,

once again the condo next door was the main topic as again I was trying to help FB friend, real-life friend and former next-door neighbor Mi Chele, now living north of here a piece, rent her vacancy, and a couple days ago new neighbors moved in! Even better, this afternoon Mi Chele herself stopped by for a short chat and a round of hugs.

Three more and I'll have finished this November's round for nablopomo!