Praying With the Body
:
bringing the psalms to life
, by Roy DeLeon, OSB, on Amazon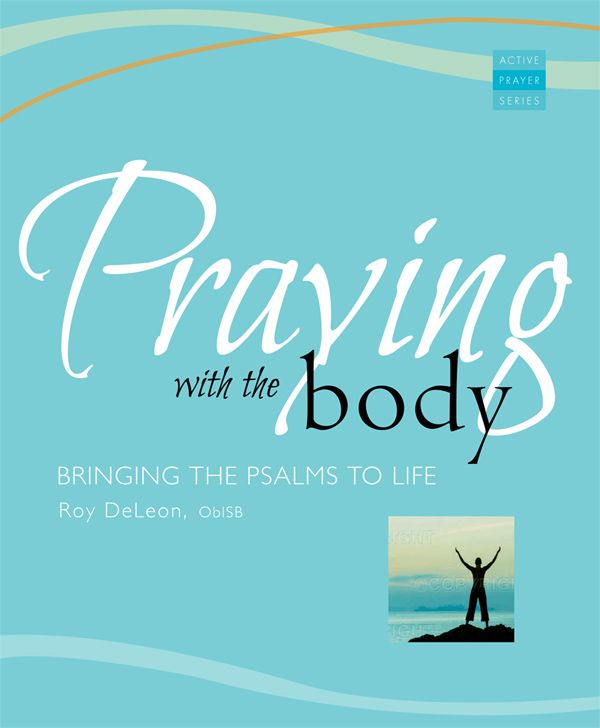 I love the 7" x 8.5" dimensions, its easy heft along with the just-right feel of the way it flexes in my hands and I love the turquoise blue cover, a color of the sea and a hue of the desert. Roy's book is in the Active Prayer Series from
Paraclete Press
, whose
about
explains:
Although Benedictine spirituality is at the heart of all that we do, we publish books that reflect the Christian experience across many cultures, time periods and houses of worship. We publish books that nourish the vibrant life of the church and its people--books about spiritual practice, formation, history, ideas, and customs.
In his forward
, Paulist Father Thomas Ryan says how strange it is that Jews and Christians pretty much check their bodies at the door of synagogue or church, while Muslims, Buddhists and Hindus integrate the whole person into their spiritual practices. Strange indeed, as Fr. Thomas further observes, that despite Christianity's high theology of the body and in spite of the fact that the "great Christian festivals of Christmas, Easter, the Ascension, and Pentecost all make profound and radical statements of faith about God's esteem for our embodied being.. And In Judaism, the body-mind-spirit is a seamless entity named... by a single word..."
Christianity's central kerygma
, our primary proclamation is God's incarnation in the human Jesus of Nazareth. I love reminding people that the gospel-writer Luke the physician ends his genealogy with "Adam, son of God." Formed from the substance of the same earth that grows crops to nourish us and other animals that in turn feed and provide for the ground's produce, trees that shade and shelter us, that provide lumber, leaves and reeds to form into dwelling places... And Latter-day Saint theology asserts not only did the Son become embodied and enfleshed; so also did God the Father! Theology of the Holy Spirit insists on human potential to achieve the divine nature we were created to assume. In the garden the tempter told the human A-dam, "You shall be like god," and verily, we shall be! Different Christian traditions use different words but
divinization, theosis, sanctification
all point toward our ultimately becoming and living both fully human and fully divine, exactly like Jesus Christ, so God becomes re-incarnate and reborn in each one of us, in the community that bears the name of Jesus Christ and in all creation. The indwelling Holy Ghost means the Divine Presence very here and very now and furthermore, in Jesus Christ we all experience the resurrection of the body.
People often refer
to Christianity as spiritual, though the way of Jesus is heavily economic, highly political and hardly ascetic in its celebration of gifts from the ground, in its perspective that insists on the interdependence of all life, in its historical affirmation of human sexuality and in its charge to care for all creation, the natural environment that surrounds us, envelopes us and that is not incidental but remains integral to God's action in history. In sacramental theology we speak of the capacity of the finite to contain the infinite, pointing toward interdependence of everything created to a degree no one could or would imagine on their own.
Roy organizes the book
into Alleluia, Sanctus and Amen types of prayer sessions. "Alleluias" are about new beginnings. Each includes an introit, a section of a psalm. a Silent Reflection, illustrated suggestions for "Praying with the Body, Heart and Soul," Sitting in the Presence (similar to centering prayer I sometimes practice), a possible way to live your prayer, an original Contemporary Psalm and concluding prayer. At about 2 inches wide, the margins of the books have plenty of space for the participant's own notes and each discrete session features a pullquote from the psalm one might choose to contemplate or concentrate on--or possibly not at any particular time.
Although intended
for the middle of the day or mid-endeavor, "Sanctus" prayer sessions could be adapted to any time of day or year. In Roy's words, they bring us "...back to the awareness that whatever is happening in our day, on our project or journeys, God is with us." (page 33)
Somewhat parallel to compline
, "Amen" prayer sessions are for the close of day or "at the conclusion of an activity or project, or at a milestone." (page 97) Similar to possibilities of praying the canonical hours, although each office has evolved and developed a specific form for a particular time of day, prayers in
Praying with the Body
are liturgical forms with content that can be appropriated for other times than specified. Any of these practices could be repeated many many times with variations and there's no solid reason to keep Alleluia prayer sessions solely for the beginning of a day or endeavor, not any particular rationale for being anything but open to Spirit about the whats and whens and wheres for all these prayers. The book includes many line drawings of bodily prayer positions, but those too do not need to be replicated exactly in a person's own practice. Glancing through the illustrations reminds me that sometimes my body is surprisingly bendy and other times decidedly not at all, but like yoga these can be adapted some.
Thank you, Roy!
My Amazon Review:
prayer-body connections: bringing prayer to life!