we who sing pray twice 5 hosted by Mary Beth. I could write a separate blog on each of these 5 questions, but for today short answers will do.
1)
Do you like to sing/listen to others sing? In worship, or on your own (or not at all?)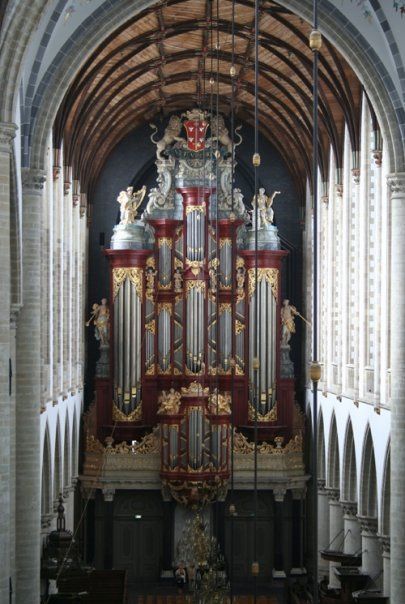 I love love LOVE leading worship from organ or piano! I have artist's diplomas in piano from
Tanglewood
and in organ from the
International Summer Academy for Organists in Haarlem
. Although I have perfect pitch and an okay voice and can sight read anything, I'm not a singer so maybe that's particularly why I love the sound of an outstanding choir as the aspect of music I'd much rather listen to than participate in, though with everything keyboards I'm the opposite.
This is a photo of the Christian Müller organ at St. Bavokerk in Haarlem, a.k.a. "The Reformed St. Bavo," since there's also a Roman Catholic St. Bavo.
2)
Did you grow up with music in worship, or come to it later in life? Tell us about it, and how that has changed in your experience.
I didn't grow up in the church, but I lived in a house with a piano and taught myself first to play by ear and then eventually to read notes before starting formal piano lessons around 9th grade. First becoming acquainted with music in worship during college probably qualifies sort of as "later in life!" Having been a musician of some sort since around 4th or 5th grade when I first started playing (not to mention earlier experiences of listening) has made me very fussy and highly discriminating, though I try my best not to be negative about people's best efforts.
3)
Some people find worship incomplete without music; others would just as soon not have it. Where do you fall?
Probably because of my own musical backgrounds and abilities, although I love well-presented music and beautifully sung liturgy, if it's not of a fairly high caliber I'd rather have a spoken service. I have fond memories (okay, mixed feelings, since it was one of my zillion plus attempts to reconcile some with Canterbury) of a couple year's worth of BCP Holy Communion Rite 1 at Vacation Parish in affluent Vacation Ville.
4)
Do you prefer traditional music in worship, or contemporary? That can mean many different things!
I'll get beyond real for a touch of ideal: probably no 19th century hymnody, organ music or organ construction whatsoever and I do not care for chant of any type (Gregorian, Anglican, Taizé...). So let's have one each of a traditional hymn such as "Praise to the Lord, the Almighty, the King of Creation" (Lobe den Herren); a psalm from the Genevan Psalter; a 20th century specialty like "I Am the Bread of Life" that crashes boundaries between traditional, contemporary and praise; an actual praise song... how about Hillsongs "Shout to the Lord?!" And by the way, for reasons of theology, politics and language I'm more than fine with
Lord
but prefer not to use
King
, but also prefer not to tweak the original poetry out of its original shape, even when leaving the intent.
I didn't mention organ or other keyboard music, choir or instrumental offerings or possible liturgical settings, but I have opinions about those, too.
5)
What's your go-to music ... when you need solace or want to express joy? A video/recording will garner bonus points!
Go-to-music
... beyond Beethoven Symphonies Nos. 1, 2, 4 and 7? Roy Harris, Symphony No. 3 and a lot of songs that have been top-40 hits or close to that number. Martin Page, House of Stone and Light; Bruce Springsteen, The Rising; Jewel Kilcher, Absence of Fear; Huey Lewis and the News, The Power of Love; Dire Straits, Walk of Life... you get the idea!
Thanks so much, MaryBeth!