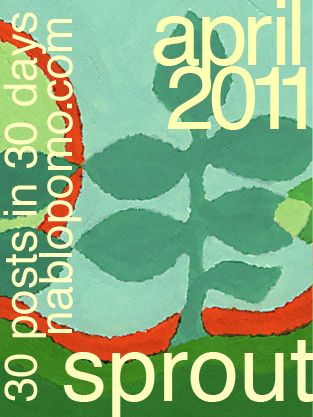 I found two recipes for Communion Bread on a friend of a friend's blog,
Lindy's blog
. Both recipes are from
Wartburg Seminary
and Lindy gave me permission to re-blog them. Here's the first; the second will be later in this April "sprout" blog series.
Communion Bread 1
2 1/2 cups very warm water (although too hot will kill the yeast). For best results you will probably want to have a thermometer and a specific temperature. That information can usually be found on the yeast package or the website bread world.
1 Tbsp dry yeast (not rapid rise)
1/4 cup soft shortening
1 1/3 Tbsp salt
1/2 cup honey, brown sugar or light molasses
6 cups whole wheat flour (or 2 cups whole wheat flour & 4 cups white flour)
In mixing bowl, proof yeast in water with a pinch of sugar. When ready (should look foamy... takes about 10-15 min.), add the shortening, salt, honey and 3 cups flour. Beat 2 min. at medium speed using dough hook (or 300 vigorous strokes by hand). Scrape bowl frequently. Add remaining 3 cups flour and blend on low speed. Scrape batter from sides of bowl. Cover bowl with a dish towel or cloth, and let rise in a warm place until double- about 1 hour.
Stir down batter by beating about 25 strokes or punch down by hand. Batter will be sticky. Turn out onto a floured surface and knead for 2-3 minutes or until the dough is smooth. Can add a little flour while kneading, if desired. Split dough into 4 parts (for about 100 people/loaf) or up to 6 parts for smaller loaves. Let rise a second time in a warm place for about 10 min. Roll out each loaf with a rolling pin into a 4" round shape. Mark each loaf with a deep cross (+) in the center. Place loaves on flat cookie sheet, lightly greased. Let rise again in a warm place for about 40 minutes.
Bake in preheated oven at 375 degrees for 15-20 minutes. Cool slowly, away from a draft.
Use within a day or freeze immediately, wrapped tightly in plastic wrap. Lindy says, "I have had great success freezing this bread when it is partially cooled, then removing from the freezer a day in advance (i.e. Saturday morning for Sunday morning)."
"Go and celebrate with a feast of rich foods and sweet drinks, and share gifts of food with people who have nothing prepared. This is a sacred day before our Lord. Do not be grieved, for the joy of the Lord is your strength!"
Nehemiah 8:10