This is part of the more-or-less monthly synchroblog series when as many people who choose get to blog on the same topic at the same time.
Advent synchroblog on wordpress
and what's going on: "To begin Advent we are exploring ideas that are encompassed in "Jesus Is Coming: What Do You Expect?" ... What are we expecting? How will it impact our lives and our faith?"
I really
really
appreciate getting a writing (or designing) prompt, something a little more specific than "Advent again!" or "Lectionary Year B again!" and wondering how our expectations might influence and make a mark in our lives and world feels just right. You can read the scriptures on
textweek
and elsewhere.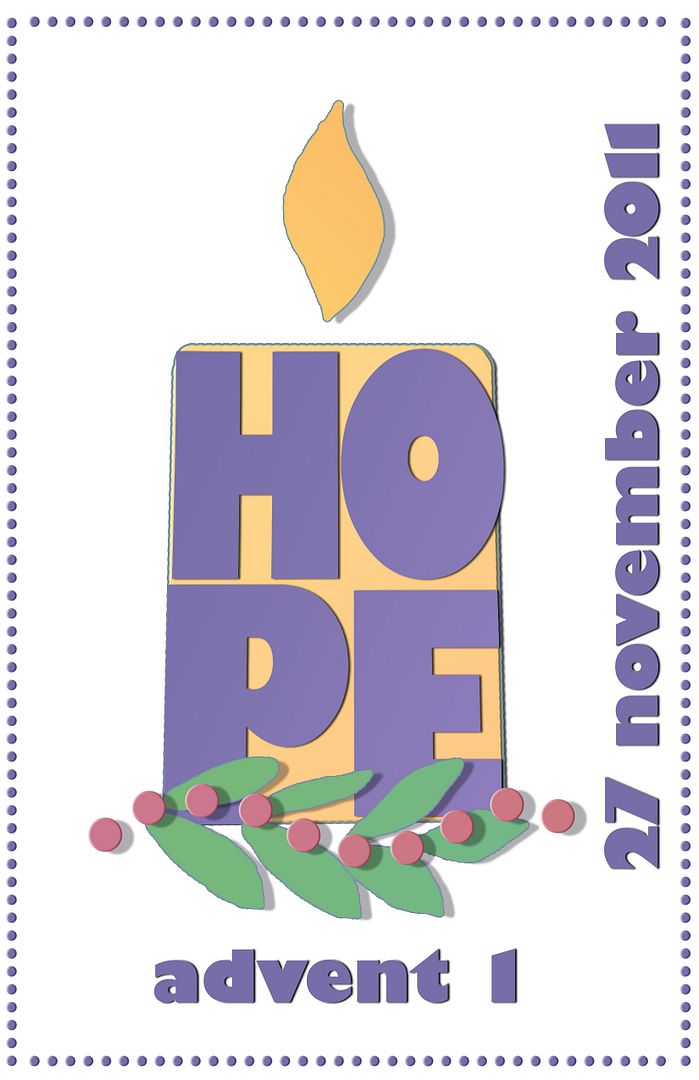 The texts for lectionary year B - Mark's year again - are about [God's!] faithfulness and about restoration; about transgression and redemption; about covenant and place. Images of personified nature in action, apocalyptic visions and unconventional human pregnancies. When we're pondering secular history, interpreting the past through the present - historicism - is bad form, but we interpret promises and events in scripture through the present literally all the time. During advent we hear about preparations and predictions and although we already know Jesus was born and Jesus still is here, what does it mean to live as people of hope, people once again awaiting God's promised presence in this early 21
st
century year 2011? From scripture, from Jesus of Nazareth's ministry and from God's grace-filled, Spirit-enabled call to the Church, we know nature is not the backdrop, nor is it the stage, the arena or even the means of God's action and self-revelation; in many ways nature is an actor and an end in itself.
The Feast of the Nativity, the first in the trilogy of great trinitarian celebrations with Easter (redemption) and Pentecost (sanctification) to follow is "The" supreme celebration of Creation. Christmas gifts ideally are gifts of creation: cookies; quick breads; pickled herring; mulled wine; homemade candles; hand knit scarves and sweaters. Considering Judaism's and Christianity's affirmation and celebration of the body and of the natural, phenomenological world, is it surprising (or is it possibly not at all surprising?) that at nativity-tide we acknowledge a newborn infant essentially formed from the substance of the same earth that grows crops to nourish us and that's closely related to other animals, "animate beings," that give yarn for knitting, help fertilize the ground, land that grows trees that shade, that gift us with lumber to make houses and shopping centers... we read scripture backwards and realize this baby named "Jesus - Save!" is the start of the New Creation!
Though it's common to hear Christianity referred to as "spiritual" practice, the way of Jesus is heavily economic, highly political and hardly ascetic in its celebration of gifts from the ground, in its perspective that insists on the interdependence of all life, in its historical affirmation of human sexuality and in its charge to care for all creation—in sacramental theology we even speak of the capacity of the finite to contain the infinite! Advent marks the start of a brand-new liturgical year and in these advent texts we again discover nature and the created environment are not the theater of God's revelation, not the stage of history, but integral to God's actions in history.
from Advent 2B
: "...in accordance with his promise, we wait for new heavens and a new earth, where righteousness is at home." 2 Peter 3:13
from Advent 4B
:
6
I have not lived in a house since the day I brought up the people of Israel from Egypt to this day, but I have been moving about in a tent and a tabernacle.
10
And I will appoint a place for my people Israel and will plant them, so that they may live in their own place ... 2 Samuel 7
The Feast of the Nativity, the first in order of the trilogy of great trinitarian celebrations with Easter (redemption) and Pentecost (sanctification) to follow is "The" supreme liturgical celebration of Creation; historically Christmas gifts have been gifts of creation.
What now? What do I expect and what am I planning to do for the start of this new liturgical year? How can I live in hope for the earth and for those who make earth their dwelling-place? I'm doing what I can to make my gifts this nativitytide not only gifts
of
creation but gifts
for
creation. Like someone trying to sort through accumulated notes, texts, papers and related from a few hundred years of school (that does sound autobiographical?) or similar to doable advice from cognitive behavioral therapy, I'm starting small. Loving where I am and showing it by consuming as little as possible, buying local, bartering goods and services rather than exchanging currency whenever possible. A couple loaves of bread in exchange for a pair of knit mittens? A locally sourced, home-cooked meal for clean windows?
Nature is no more spectator than humans are! In sacramental theology we speak of the capacity of the finite to contain the infinite… whether your theology considers baptism an ordinance or a sacrament, it can't happen without clean, flowing water. Whatever your theology of the Lord's Supper, Holy Communion, the Eucharist, it cannot happen without fertile soil, unfiltered sun, farmers and vintners and bakers, potters and speakers of the word.
I'm starting small this year, by giving gifts of creation to a world that cries out for cooperation, interdependence and redemption.
other participants include
• ron cole at the weary pilgrim –
advent: reimagining everything
• liz dyer at grace rules –
expect the unexpected
• mix melly at perchance to dream –
parousia
• kathy escobar at the carnival in my head –
present, humble, vulnerable
• David Perry at Visual Theology –
Advent As A Mirror of Possibility
• Christine Sine at Godspace –
Jesus Is Coming What Do We Expect?
• Liz VerHage at
Living Theology
• Sally Coleman at Sally's Journey –
Come Spirit of Advent
• Jeremy Myers at Till He Comes –
Jesus Is Returning Today
• Glenn Hager –
Antithetical Advent
• Ellen Haroutunian –
Remember Our Story
• Carol Kuniholm at Words Half Heard –
What I'm Waiting For
• Mihee Kim-Kort  –
Advent Expectations: Keep Awake
• John Reid at Blog One Another –
Undiscovered Advent: The Second Coming of Christ
• Dave Wainscott –
For Advent I'm Expecting What I Desire and What I Deserve
• David Henson –
Reflections on the Second Sunday of Advent
• david perry at visualtheology –
word, life space and enlightenment