Sally hosts today's Friday 5
and asks:
1.
What brings you light in the dark places?
All these dark years… yep, you know about that. A couple of things: getting out of bed about a half hour before first light and watching as another new day invariably and gracefully make its way onto the world. Remembering my situation hasn't always been like this, and trying to relocate myself in more illuminating settings from my past. Can I replicate some form of those here and now? Also realizing despite everything, I've still been hitting quite a few balls out of the park. Re-membering: bringing back together; again forming a whole from scattered parts.
2.
How do you connect/reconnect with God, and where do you find him/her holding you?
One of my best techniques is praying for people from my past; it is very settling and calming.
3.
Is there a prayer/poem/piece of liturgy that speaks life/sustains you?
At Sunday Eucharist during the offerings of bread, wine, and tithes, as they set the table we sing from Psalm 116 (it's the appointed psalm for Maundy Thursday): "What shall I render to the Lord for all his benefits to me? I will offer the sacrifice of thanksgiving and will call on the name of the Lord. I will take the cup of salvation and call on the name of the Lord. I will pay my vows to the Lord now in the presence of all his people, in the courts of the Lord's house, in the midst of you, O Jerusalem." God invites me and everyone to the feast! "Jesus Christ, the bread of life; Jesus Christ, the cup of salvation!"
4.
Is there a piece of music that lifts your heart? (share it or a link to it)
There are so very many, but since this is a theology blog for now try Edwin Hawkins' "Jesus, Lover of my Soul!" and Jeffrey Ames' "Let Everything that hath Breath" from Psalm 150 by the
Northwest Missouri State Tower Choir
. I love how this music gets me out of my own funk and reconnects me with creation and with a future purpose. Can you tell the African-American church has influenced me? There's also something especially revitalizing about well-sung choral or vocal music.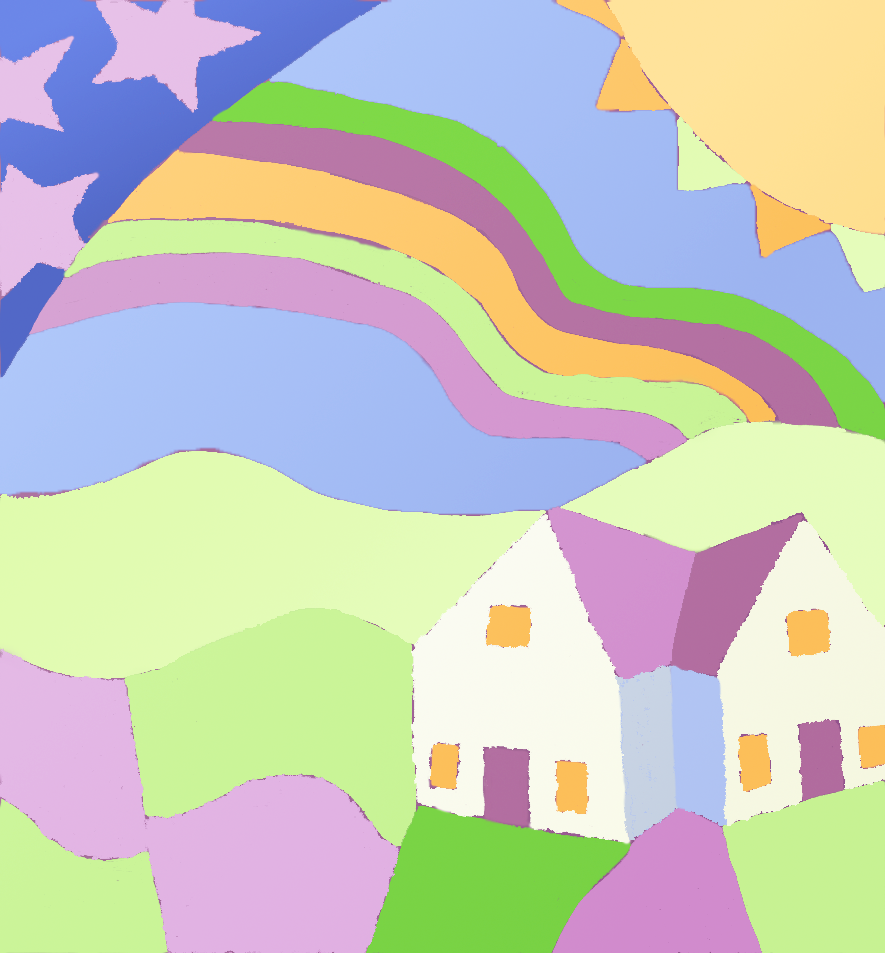 5.
Is there a place you run to (even in your imagination?
The beach when I can get there (it's about 3 miles away); the beach in my mind and memories when I can't be there physically.
Bonus:
Add pictures to any /all of these :-)
Instead of illustrating my answers, I'm posting a separate pic. I love working with colour, line, pattern, and light and I often draw houses. This is from my "sun country house" series that I originally quickly drew to help illustrate concepts for a colour theory class. I've drawn it in close to a dozen colourways; this light, bright palette seems especially appropriate for early summer in the northern hemisphere.
PS Because of YT vids coming and going, I've been deleting links but keeping music titles.