Deb hosts the very last ever Friday 5 for 2012, with suggestions to
recycle, regift, reflect 5
Recycle: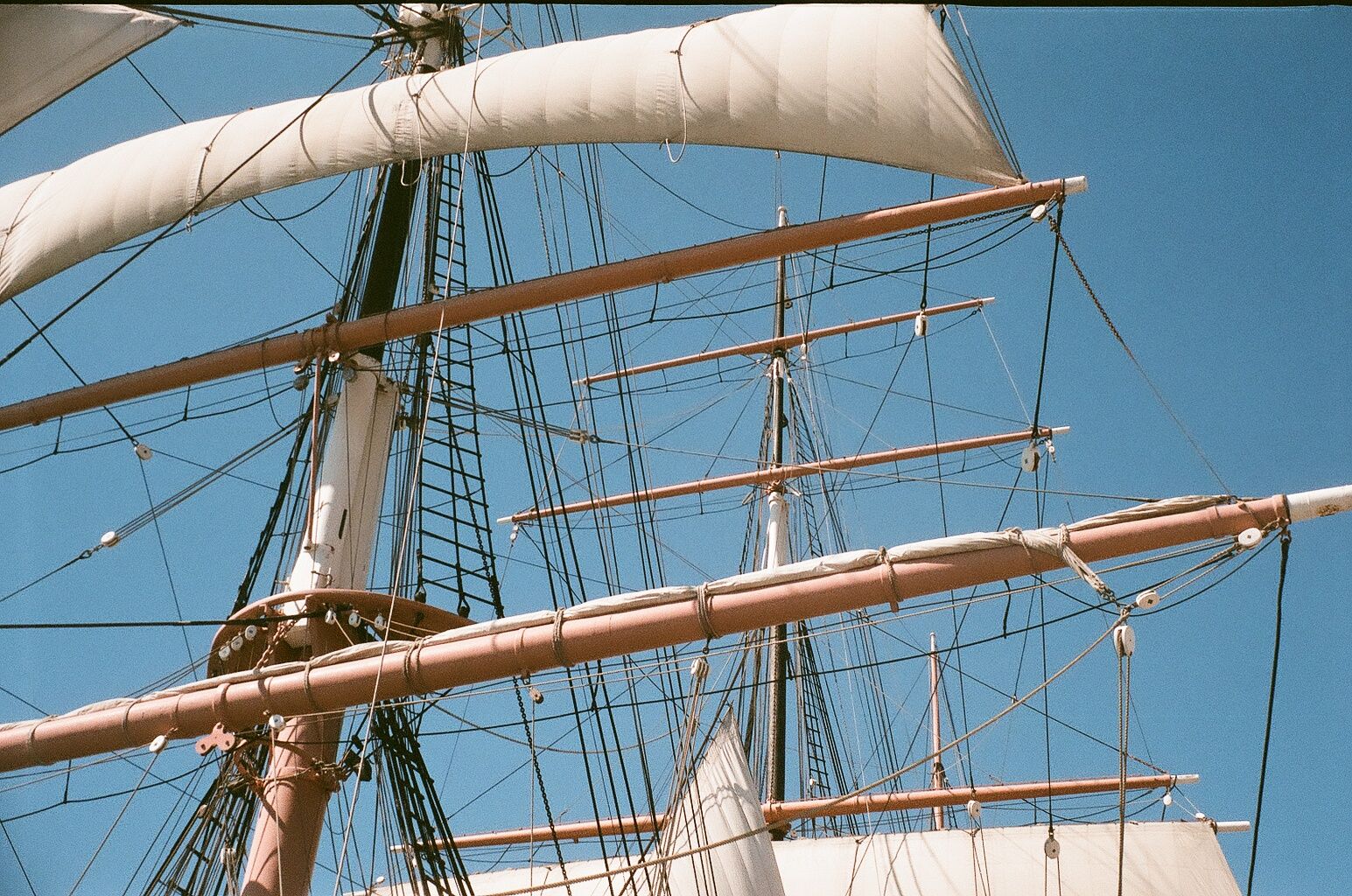 1. Labor Day weekend I attended Festival of Sail for the 4
th
year. Now that it's an annual event (mainly sponsored by the Unified - land, sea, air - Port), it's
some "old news" I'd like to repeat for 2013
. This is one of my many pictures of the Star of India; I love photographing her against the boundlessness of the sky.
2.
Exactly related to the recycle section heading, a "new thing" I've started and want to keep going in 2013
isn't truly new, but I'm continuing my ongoing practice of recycling, free-cycling, and donating books, clothes, anything that meets that "no longer works for me, my lifestyle, and my living space" criteria. Also, not really new is my resolution to begin doing some fine art again. I bought a stack of reasonable-sized canvases and gave myself water color markers for Christmas; I already had acrylic paints, water colour paints, quality brushes, quality drawing paper. Maybe we'll get to say more about newness in the first Friday 5 of 2013?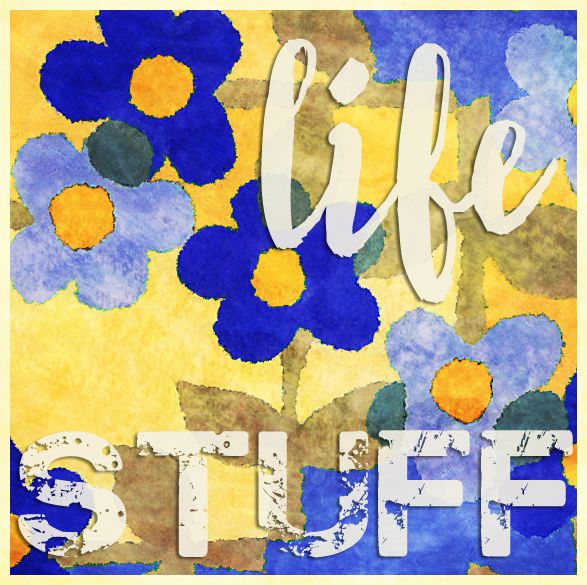 Regift:
3.
Events and experiences I wouldn't mind returning to sender?
I'll leave this one blank.
Re-examine:
4.
The brightest bit of joy during 2012
could have been my successful attempts these times (finally!) to begin connecting fairly well with some people who've sort of been in my world, letting go of the fear of more rejections and rudeness, even letting go of my valid explanations other people have lives that probably don't revolve around me—but that might be able to include me at times.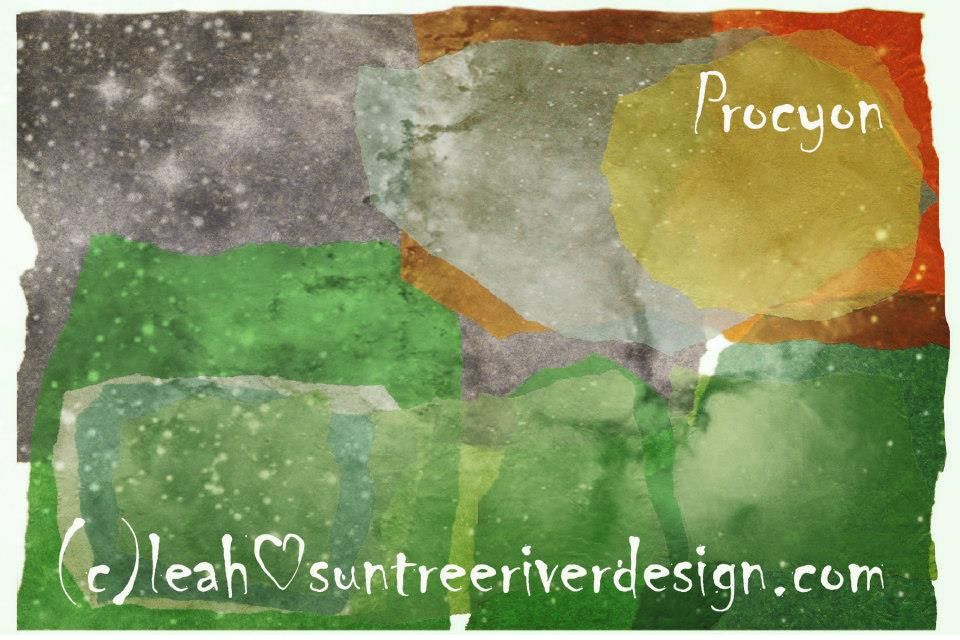 5. For
a picture that says far more than words
, here's the constellation Procyon, radiating with the brightness of at least five suns; it's from the
nativity sky
group on my Facebook design page.
PS
bonus:
Cornbread Salad
Ingredients
• 1 9 ­ounce package Cornbread Mix
• 1 4.5 can chopped Green Chilies
• 1/2 cup Mayonnaise or Aioli
• 1 cup fresh Cilantro chopped
• 1/4 cup Lime Juice
• 1 teaspoon cumin ground
• 1/2 teaspoon Salt
• 1 head lettuce Romaine or Iceberg—is best shredded
• 1 15 ounce can black beans rinsed and drained
• 1 15 ounce can black olives rinsed and drained
• 1 11 ounce can whole kernel corn drained
• 1 8 ounce package cheddar or Monterey Jack Cheese shredded
• 1 large Red Bell Pepper chopped
• 6 Plum/Roma Tomatoes chopped
• 3 green onions chopped
• 1 pound cooked chicken chopped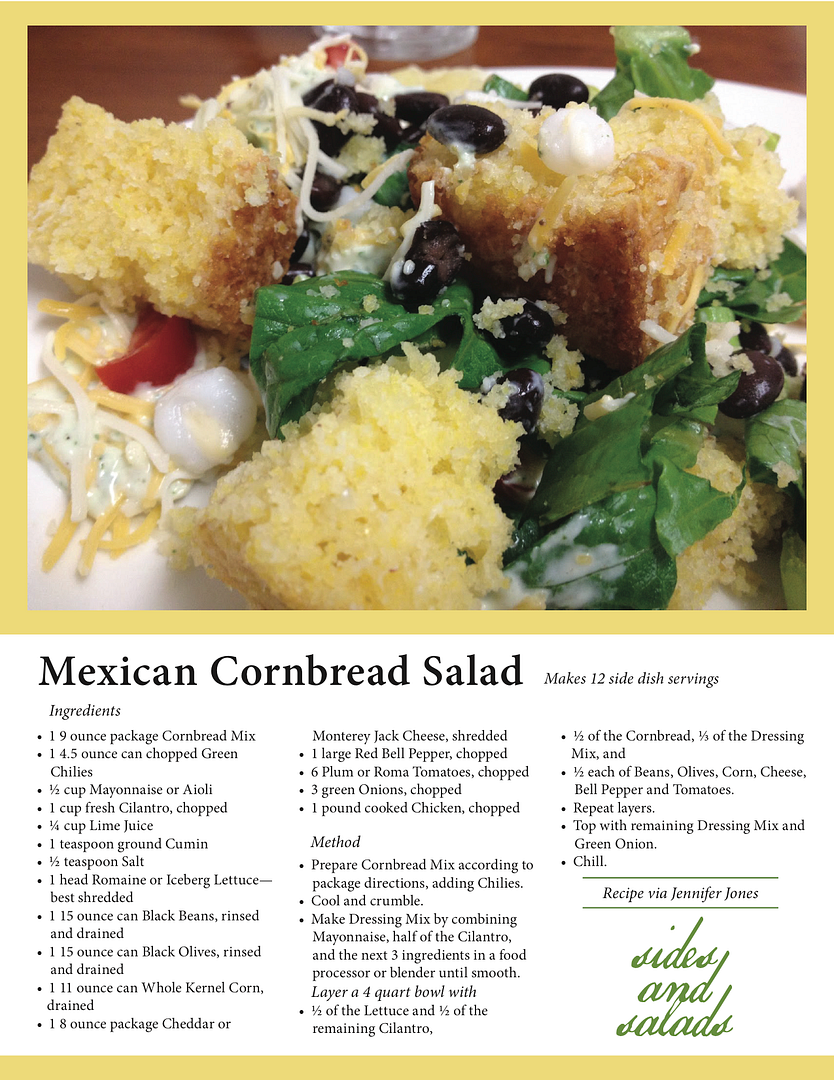 Method
• Prepare cornbread mix according to package directions, adding chilies.
• Cool and crumble.
• Process mayonnaise, half of the cilantro, and the next 3 ingredients in a food processor or blender until smooth.
• Layer a 4-quart bowl with
• 1/2 of the lettuce and 1/2 of the remaining cilantro,
• 1/2 of the cornbread, 1/3 of the dressing, and
• 1/2 each of beans, olives, corn, cheese, bell pepper and tomatoes.
• Repeat layers.
• Top with remaining mayonnaise mixture and green onion.
• Chill.