You can find this year's
Advent synchroblog
on WordPress synchroblog headquarters.
We find a lot of comfort in the story of Christmas, as we should. Advent is that time each year when we slowly make our way through the journey of that wonderful birth so long ago. Very often we, as the larger community of Christ, consider this season from the perspective of expectant waiting. But Advent is about much, much more ... it's about the harbingers of Jesus' ministry on earth ... hope, and love, and joy, and peace. What are your stories of hope, love, joy and peace? How do you remember them and pass them on to your family or your neighbors? Can you see the shadows of Jesus in them? Since it's Christmas, won't you please tell us all a story about Advent in your everyday life.
Our lives are about story. Stories create themselves from our presence in each others lives, in our interactions – of every type, style, length, uncertainly, and distinction – with others. Most of my writing and even much of my thinking has become abstract, lacking the flesh, spirit, and messiness of real-life relationships and exchanges. I'm constantly remembering pasts that may model a real future of life gradually reweaving itself again, but often almost despair of what I can do to help it happen.
Although I'm on Facebook sabbatical until the Feast of the Nativity – or maybe until the Feast of the Epiphany – before starting my break, I joined the Slow Advent Facebook event; what does that mean?
"As Slow Food is to Fast Food – so Slow Advent is to most people's 'Season of Advent.'

"The Slow Food Movement's goal is "to counter the rise of fast food and fast life, the disappearance of local food traditions and people's dwindling interest in the food they eat, where it comes from, how it tastes and how our food choices affect the rest of the world.

"Slow Advent is to counter the rise of materialism and consumerism that bombards us this time of year, the disappearance of a focus on the traditions of the season and people's dwindling interest in preparing for that for which they wait, how preparation feels and how the way we prepare impacts the rest of the world..."
I have quite a few Facebook friends from Australia and New Zealand, several from Singapore, too. I'm trying to imagine how it would be to observe Advent, celebrate Christmas and Epiphany in a geographical place experiencing the brightest, lightest, longest days of the year rather than the darkest, dimmest, shortest ones.
In all three lectionary years, Advent begins with a splash of apocalyptic, signaling the end of the world as we've known it. I'm aching for the end of the world of death, defeat and disappointment I've inhabited most of the last two decades. I don't need to ask how Advent would feel in a part of the world just beginning the meteorological (and soon the astronomical) season of summer, rather than winter, because this human condition of darkness and devastation is the same wherever it happens.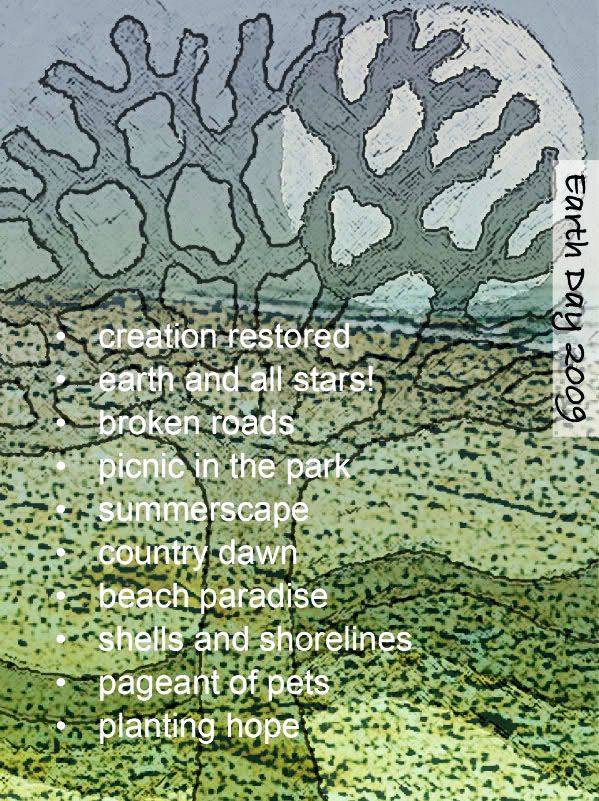 In 2012, as it long has done, with prophetic words of judgment and hope, Advent initiates seasons of waiting and watching, living, dying and rebirth, that connect us to the entire people of God in every place and time and helps us connect to sun, sky, sea and soil. But that "rebirth" is not a conventional, inevitable outcome; it's something else altogether—it is resurrection from death! I've been updating my virtual presence as a designer, and as I looked up some work from a few years ago, I found this playlist I imagined for the back of a CD case design for Earth Day 2009. I especially enjoyed how I'd included "creation restored, broken roads, and planting hope," all of which relate well to the general mood of Advent. Because we're familiar with the stories in scripture, we've become adept at recounting the narratives of salvation history (remember
Heilsgeschichte?
), so we always imagine we know the rest of the story... but we really don't know. My life cries out to begin living a story again! My life cries out for resurrection!
To plant some hope in my own life, I've been continuing my attempts to connect with people. I've been helping prepare the (slow food) Thursday evening church / community family dinners at church around the corner. I love working in the kitchen (don't mind cleaning up afterwards, either); it seems like a great way to connect with Jesus and start re-connecting with people, too. On Advent 1 and again the following Friday evening (it was that good!), I attended Lessons and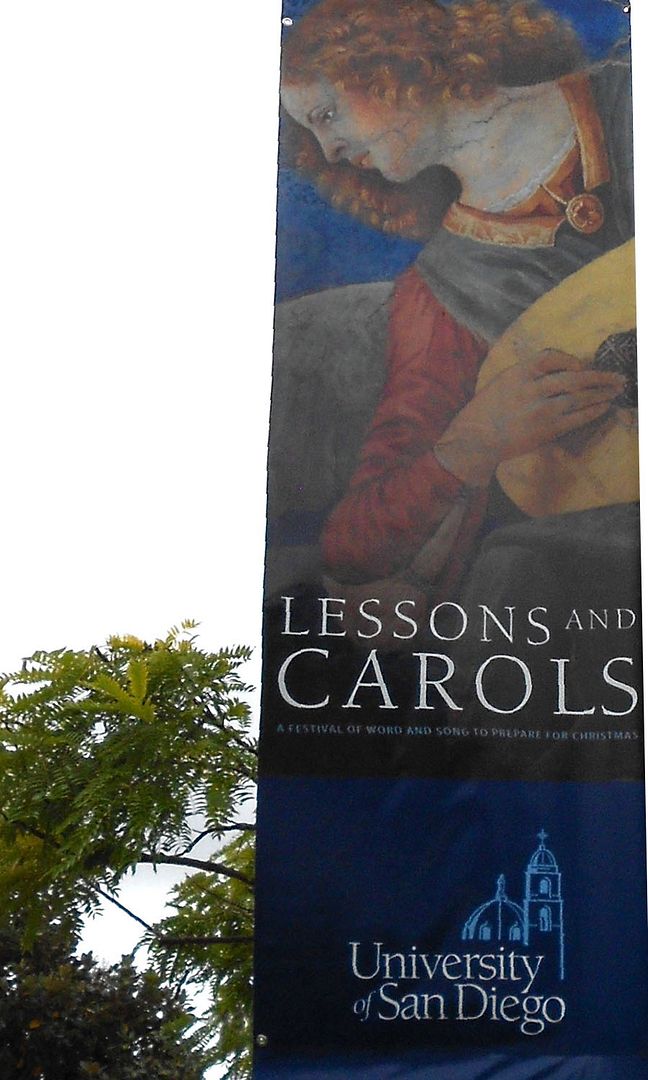 Carols at Church-Related University
and had an encouraging conversation with the person next to me, so we exchanged contact info
10 days later she hasn't contacted me, so who knows. (Lessons & Carols banner features "Angelo Musicante" by Melozzo da Forlí, as does the printed program every year.)
A couple Tuesday mornings ago I met a friend from Yet Another Former Church for coffee; last Sunday I spent a couple hours with a friend I originally met during a bible study series during summer 2008 and since then have commented back and forth with on fb. He explained how he'd lived in intentional community several times, but since that's no option in this city, he's intentionally forming his own community with regular getting-togethers like last Sunday's. I'm attempting to become a presence in other's lives, doing what I can to invite them into mine. Compared to the rich friendships and always-available community I used to enjoy, these may sound like tiny endeavors, but they're ways in the Spirit I'm starting to plant hope for the end of the world I've been inhabiting for the past couple of decades.
PS my friendly attempts are nothing new; ever since being recalled (=fired) from Church in Semi-Affluent Suburbia, I've made a campaign of inviting people to lunch, coffee, snacks, activities. It slowed down lots, though, and with this new phase I'm expecting different results for the same behaviors.
other December synchroblog contributors for this month are:
• Carol Kuniholm writing at Words Half Heard
• Jeremy Myers tells us about Santa Clausette
• Liz Dyer celebrates Dreams Do Come True
• Leah Sophia digs in with Planting Hope
• Glen Hager reveals a story of Christmas Surgery
• Kathy Escobar wrestles with holiday expectations
• Wendy McCaig ponders storytelling in Once Upon A Time