The Word on the Street
:
Performing the Scriptures in the Urban Context
. Stanley P Saunders and Charles L Campbell, authors; foreword by Walter Brueggemann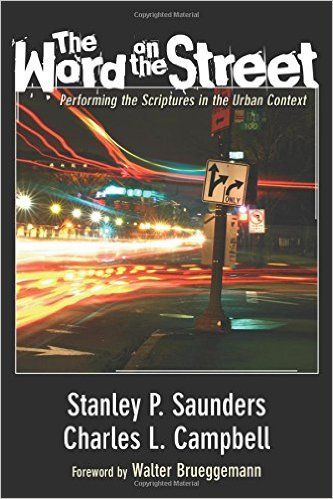 I read the ©2000 version of this book; this image I found online is for the 2006 edition. I love that this book has footnotes rather than endnotes! It also includes a select bibliography, index of names and subjects, and scripture index, always useful in this type of book. A few woodcuts from Artist Christina Bray's
Street Prayers / Spiritual Journeys
exhibit during 1999 at Columbia Theological Seminary accent text and tales.
The Word on the street where you live, the street where I live, any of the streets we frequently or occasionally walk or drive. This
Word on the Street
book by a couple of professors who still teach at CTS in suburban Atlanta, Georgia is about Open Door Community –
whose daily performance of Scripture brings life in the midst of death
– on the particular Ponce de Leon Street in Atlanta. In some quarters, "What's the word on the street [called Wall]?" is a daily concern. Far more urgently we need to know, what's the redemptive word and reality of God's Word of Life, of death and resurrection, on the streets in your world? In mine?
Ten years ago I read
Word on the Street
from Campbell and Saunders, and felt inspired to reread it this past week. In the decade since summer 2002, online interactions, social networking status updates, and virtual theological discussion have became daily fare for many of us, yet again I found absorbing chronicles, sermons, and reflections printed between the covers. I remembered this is where I'd become reacquainted with William Stringfellow's "tokens of the resurrection" in the eucharist;
An Ethic for Christians and Other Aliens
was one of my most majorly revelatory reading experiences prior to seminary!
In his foreword, Walter Brueggemann insists, "For starters, that [a trio of vignettes from the book] gives baptism, Eucharist, and resurrection as a prism for public theology. The bread is thin and the wine is poured out, and Easter is fragile news wherever it is told and trusted. None of that is compelling, unless one is on the street to see it, unless one is free to discern it, unless some are bold enough to sing it and say it. This act of evangelical reconstrual is daring and always uphill, but in no other way will the street be seen to be congruent with the word." [xv]
"Then Moses went up to God; the Lord called to him from the mountain, saying, ... 'These are the words that you shall speak to the Israelites.' So Moses came, summoned the elders of the people, and set before them all these words that the Lord had commanded him. The people all answered as one: 'Everything that the Lord has spoken we will do.'" Exodus 19:3; 6-8
Simon and Garfunkel's Bridge Over Troubled Water: "When you're down and out; when you're on the street; when evening falls so hard, I'll comfort you; I'll take your part.
Oh, when darkness comes, and pain is all around, like a bridge over troubled water, I will lay me down."
How will we preach, be, and perform the reconciling word of life on our own streets? Everyone has a physical place in measurable longitude and latitude, even if not a more-or-less permanent one, yet the main cultural meanings of "on the street" still relate to financial markets and falling on tough economic or personal times. Many themes throughout the book resonate with my own longings of this past decade. You need to interpret scripture (on the street?) where you live, but in order to do that you need to have some kind of place. The authors show us how society has removed the reality of
a place
from many of the poorest of the poor, who for structural and/or personal reasons find themselves without a street address. I've almost made a habit of quoting Cornel West's "dangling people." From page 198 of
The Road to Daybreak
by Henri Nouwen: "[California] is a land to which people go to be free from tradition, constraints, and an oppressive history. But the price for this freedom is high: individualism, competition, rootlessness, and frequently loneliness and a sense of being lost." True, but that's only a minor proportion of what I've been experiencing, and likely an even more negligible segment of what lots of others on urban streets feel and know.
The last chapter of
Word on the Street
reminds us,
"Justice Is Important, but Supper Is Essential": Solidarity, Hospitality, and Urban Spirituality
. Well, yes, and food is part of justice. At least once on this blog I've mentioned how for the past few months I've been helping preparing the weekly Thursday evening community dinner at Church around the Corner. Demographically and geographically, this is a culturally and ethnically diverse working class suburb, yet most Thursdays we've served at least a handful of "street people." I love being in the kitchen, and worked as a line chef for a while. Trying again to start building some context for myself with Thursday dinners, preparing a meal to feed all comers, seemed so Jesus-y and glamorous, and I was excited to begin! How will we preach, be, and perform the reconciling word of life on our own streets? In the officially constituted and incorporated churches on the corner, alongside the bay, by the riversides, and on market street?
Then Moses took the book of the covenant, and read it in the hearing of the people; and they said, "All that the Lord has spoken we will do, and we will be obedient." Exodus 24:7
"For I received from the Lord what I also handed on to you, that the Lord Jesus on the night when he was betrayed took a loaf of bread, and when he had given thanks, he broke it and said, 'This is my body that is for you. Do this in remembrance of me.' In the same way he took the cup also, after supper, saying, 'This cup is the new covenant in my blood. Do this, as often as you drink it, in remembrance of me.' For as often as you eat this bread and drink the cup, you proclaim the Lord's death until he comes." 1 Corinthians 11:23-26
"The exhibition of the kingdom of heaven to the world?"
The exhibition of the kingdom of heaven to the world!
my amazon review:
Doing the Word