Juxtaposed
:
Finding Sanctuary on the Outside on Amazon
Daisy Rain Martin
's site... includes resources and hope for revealing and healing from abuse.
As we walk through this world – and as we engage scripture – we discover countless juxtapositions of seemingly polar opposites: sin and grace; evil and good; brokenness and redemption; oldness and newness. Daisy Rain Martin reminds us, "The universe is random. This is Earth where sad things happen. And God wastes none of it."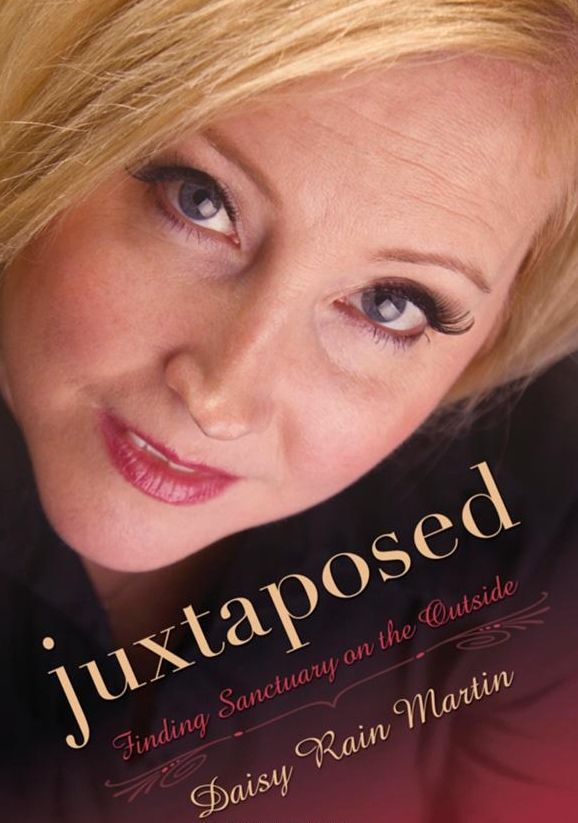 Daisy spent her earlier years "between the sanctified and the insane," ultimately becoming humanly whole in
spite
of the horrific direct sexual, emotional, and physical abuse she endured from her mother's husband, the silent and tacit abuse she suffered because of her mother's complacency. From cradle on, Martin lived in patriarchal, secretive, self-righteous, Pentecostal Christian setting that mightily contributed to her attempts to hide and to justify the abuse as it happened to her. The first part of her first-person narrative moves at breakneck speed through stories of her childhood, then onto her college years at what's now Vanguard University. It slows down some to offer long and closeup views of her life today with her son and husband; finally at the end of the book, Daisy describes the type of redemption her once-devastated life now offers the inner-city youth she teaches. "A Daisy Flower with a Rain of Hope" sets possibilities and alternatives before those kids, challenges them to grasp newness and a future in their hands. She exclaims about what hope can do for a kid, for any one!
I loved listening to her recount stories of the ultra-conservative, highly legalistic church experiences of her youth; learning about her and her husband's (in the end) negative times with a new church start that appeared to begin in a positive manner heartened me, too. As the author points out, people have survived and thrived beyond far worse than she has; comparison's typically are a bad idea, though placing yourself, your past, present, and possible future into the story is a big part of the value of a biographical book. As I read, I wondered how much of my own past I still needed to shed in order to testify as Daisy does, "I enjoy a life of abundance and hope and freedom beyond anything I could have ever thought or imagined because I have let go of my past. Literally. That includes people." That's a tough one: not only deciding to spend less time with a particular person, more time with people who are healthier influences, but zapping people completely out of your life? I feel that's what most of the people who were part of my former life did to me, yet despite my behaviors and attitudes never achieving perfection, I still cannot fathom how and why I was so not okay to them.
Despite the literal atrocities Daisy experienced, the biological heritage from her birth father definitely contributed to her ability to endure, as did her apparent ability to view goings-on with some detachment. I love her description of finally getting beyond denial, raging at God, and opening a path to start healing. Snippets of this story could be almost anyone's, and God wastes none of what happens to us―none of what we sometimes cause to happen to others, either.
I read the digital version of
Juxtaposed,
but we'd call this book a page-turner if it were analog. "Raw!" and "powerful!" are book review clichés, but
Juxtaposed
is those and more. I want to meet and talk with Daisy Rain; I'm waiting for her to come to a town near mine. Soon.
my amazon review:
the history and the hope