Legal note - "Disclosure of Material Connection: I received this product for free in hope that I would mention it on my blog. This disclosure is in accordance with Federal Trade Commission's 16 CFR. Part 255: 'Guides Concerning the Use of Endorsements and Testimonials in Advertising.'"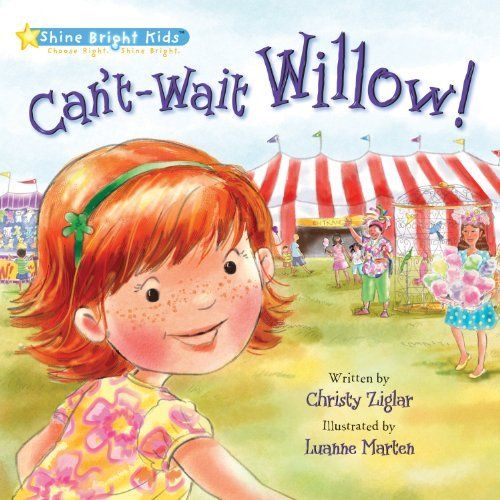 Can't-Wait Willow!
from Shine Bright Kids Series on Amazon; written by Christy Ziglar; illustrated by Luanne Marten.
"
Choose Right. Shine Bright.
The first book in a new series about helping children learn how to make good choices.
"
link love:
•
Always Shine Bright
•
Shine Bright Kids on Facebook
What a beautifully produced book! The front of the dusk jacket features a shiny embossed dye-strike―sparkles on Willow's dress and headband, too! According to Zig Ziglar, uncle of book author Christy Ziglar, "Sometimes you've got to say 'no' to the good, so you can say 'yes' to the best." Yes, but...
Featured character Willow meets a series of challenges, temptations (opportunities?) to purchase something she wants right now with her (necessarily limited) money; as a result, she ends up without enough cash to attend the circus show and buy a coveted cotton candy. In fact, because she makes so many stops along the way, Willow arrives at the circus grounds so late the show is over. Her chance meeting with the circus ringmaster wins her the gift (unearned grace?) of a ticket to the following day's circus show. At the show, Willow gets to enjoy a couple of cotton candy treats, and she gets to ride on the elephant―even better than the purple stuffed elephant she won the previous day by paying to play a game. Redemption?!
I love Luanne Marten's color-filled, whimsical pictures, but from all appearances, she sets the story somewhere in the semi-rural prairielands of the USA or Canada. Both kids and grownups in the story are ethnically diverse, but everything else about them suggests several decades back in time in the semi-rural prairielands of Canada or the USA. For sure a benefit of reading is for kids to use their imaginations on order to place themselves in other places and times, but given the fact
Can't-Wait Willow!
is supposed to convey and teach a lesson for today, I'm not convinced the illustrations are exactly relatable. I
do
get the idea of choosing the best over the better, but how on earth does any kid, left to her/his own choices in a normal average day, know what might be in store later on, even when they originally intended to buy a certain good with their money or scarce time, but in-between discovered several not quite as good options? Besides, all along the way, Willow still contributes to the local economy! Not to rain on Willow's parade, as much as I love animals – because I love animals – a circus without them would have been better.
So far every reviewer has given
Can't-Wait Willow
a 5-star review, but I can't be that generous. My rating: storyline, 3 stars; illustrations, 5 stars.
my amazon review:
visual beauty; okay story