Trinitarian Letters
:
Your Adoption and Inclusion in the Life of God
by Paul Kurts on Amazon
Trinitarian Letters
, the site.
Trinitarian Letters on Facebook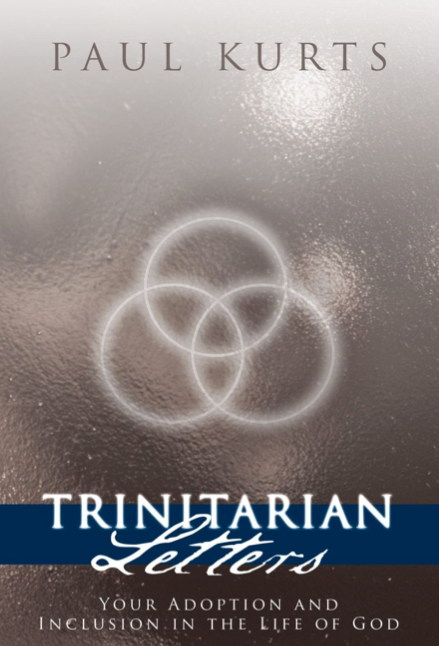 I read
Trinitarian Letters
with echoes of the lectionary texts for Trinity Sunday 2013 still in my head and heart! In 150 letter-length articles, here's the proof-texting grandpa sitting on the front porch lining out some scriptural connections, real or imagined, explaining in casual conversational manner how each of us participates in the perichoretic life of the Triune God. Or in simpler terms, the godhead comprised of Father, Son, Holy Ghost. Author Paul Kurts self-published this book through Thomas Nelson's WestBow Press, and why not? Many folks publish their own books these days. However, he needed a better editor (or an editor, period); he needed to know enough not to type so many sentences in all-caps... even the 4-page table of contents is all-caps! It doesn't take serious theological propensities to realize auto-correct and spell check are not big on theological terminology, but really, Armenianism? Armenian theology?
Here's an article about it
(the original article on Armenian theology is gone; I updated to one about the Armenian Church). He meant
Arminian
, and in the end finally got it right.
pages 93, 141, 152: After reading for the third time that the Reformation happened in the 1600s, it finally dawned on me he might not realize "The Reformation of the 16
th
Century" refers to "The Reformation in the 1500s." Then again, what church- or history-oriented person does not know the date of 31 October 1517?
"Comparisons are odious" (according to Recovery International?) and it is plain mean of me even to mention how the subtitle immediately evoked the first of Miroslav Volf's books of free church ecclesiology,
After Our Likeness
:
The Church as the Image of the Trinity
. But I can fairly say the lack of theological and grammatical coherence in most of this book would have earned me a D or an F in almost any class in almost any school I attended.
Nonetheless, despite its near-complete lack of organization and clarity, it could be helpful to read
Trinitarian Letters
as a book of devotions, by thoughtfully pondering the many positively reassuring and familiar passages of scripture Paul Kurts quotes—he especially likes Romans, Colossians, Ephesians, and the Gospel of John. Human adoption into and participation in the relational life of the Trinity is all about experiencing God's love, mercy, grace, and inclusion.
Legal note – "Disclosure of Material Connection: I received this product for free from
The Speakeasy
in hope that I would mention it on my blog, with no requirement to write a positive review. I am disclosing this in accordance with Federal Trade Commission's 16 CFR. Part 255: 'Guides Concerning the Use of Endorsements and Testimonials in Advertising.'"
my amazon review:
disappointing