Finding God in a Bag of Groceries
:
Sharing Food, Discovering Grace
, the book, on amazon, by Laura Willis.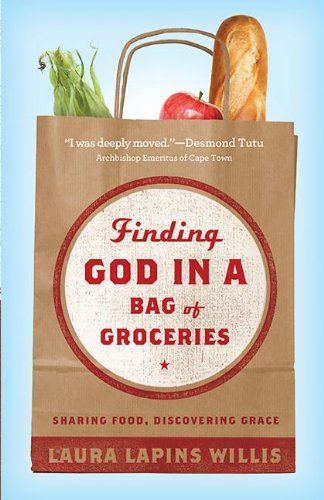 How many people have found meaning, purpose, and pleasure in ministries that involve food—stacking and distributing boxes, bags, and cans, providing or hosting a meal to guests? Contributing to the annual letter carrier's food drive? If you've been there, done that, you'll enjoy reading about this ministry that began as a "small pantry start" at a rural church in Sewanee, Tennessee, and grew to a sizable enterprise, while always engaging each individual and each family as unique. I love how the people in each chapter come as alive on the pages as those in almost any novel! Finding God in a Bag of Groceries will resonate with anyone who has volunteered for municipal thanksgiving dinner. Folks who have gone with their church a day or two each month to help with lunch at St Vincent's, Salvation Army, or Father Ryan's. If you've helped out with federal commodities in the church gym or Nearby Christian Center.
Although Laura Willis barely references chapter or verse of scripture, her actions and words demonstrate a living sense of ways people who give food – and people who receive that essential stuff of creation – discover the presence of a gracious Creator in the Spirit-led disciples who minister food. She's not preachy at all, and freely admits the steepness of her own learning curve at some junctions along the way. Excellent choice for a church council, session, consistory, or vestry, for the board of directors at Nearby Christian Center to study and consider.
my amazon review:
essential ministry