Finally Comes the Poet
,
Daring Speech for Proclamation
by Walter Brueggemann on amazon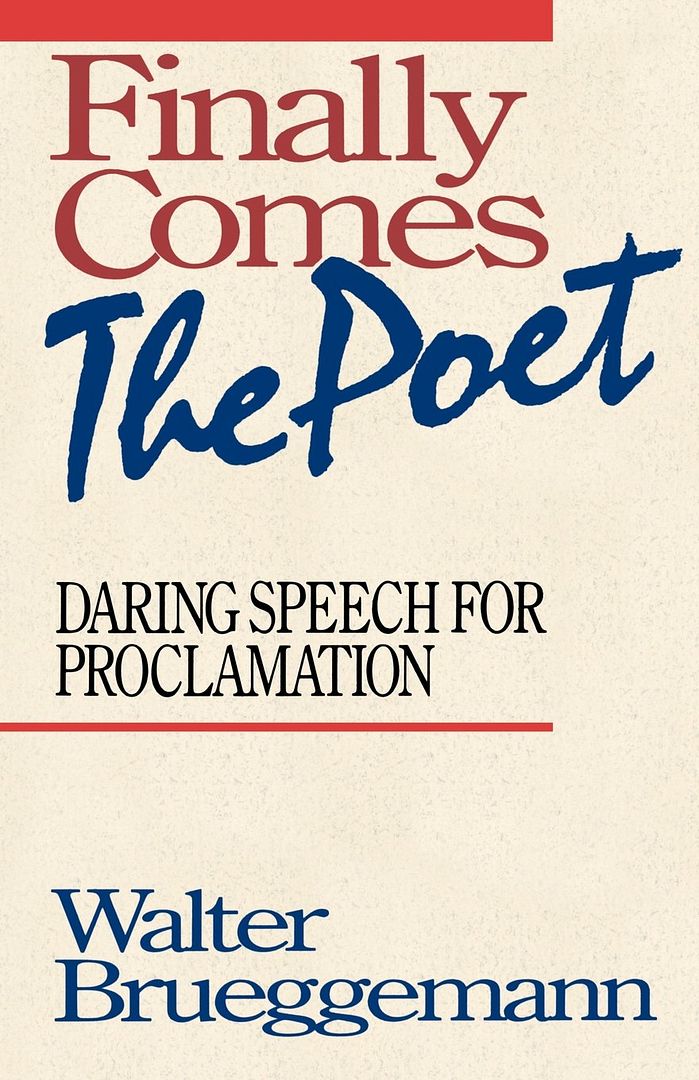 Walter Brueggemann found this book title in "Passage to India," from Walt Whitman's
Leaves of Grass
. This world has become "prose-flattened," so an alternative mode of addressing and encountering became the subject of the 1989 Lyman Beecher Lectures at Yale Divinity School. Poetry isn't necessarily rhyme, metaphor, or simile, but poetry is the same type of alternative to conventional verbal expression that resurrection is to the reign of death. Israel spoke of the prophet, Greece of the poet, but both poet and prophet spoke and gave (in the Spirit they still speak and still give) the world jarring, angular, prodding, probing, redemptive words. This is Brueggemann, so you won't be surprised to know he reminds us "Word has its habitat in Sacrament. But it is to say more. It is to say that all our talking and listening is out of baptism and into baptism." (page 85)
I suppose in some ways
Finally Comes the Poet
is mostly a book for preachers and for those who regularly attend to preaching, but it's also a book for every one of us wherever we are. For the preacher in her or his daily sojourns to the mall or the grocery store. For every one of us who gathered around Word and Sacrament last Sunday, who now gather around colleagues at the office, grandkids at the kitchen table, second graders in the classroom, "bound in covenant to the life of God" (page 85), inspired to speak and evoke a lively and life-giving alternative to the reign of death. So let's not be prose-flattened? Let's all be and become the poet for each other!
my amazon review:
Finally Comes The Poet