Today Deb hosts a most welcome
signs of spring Friday 5
.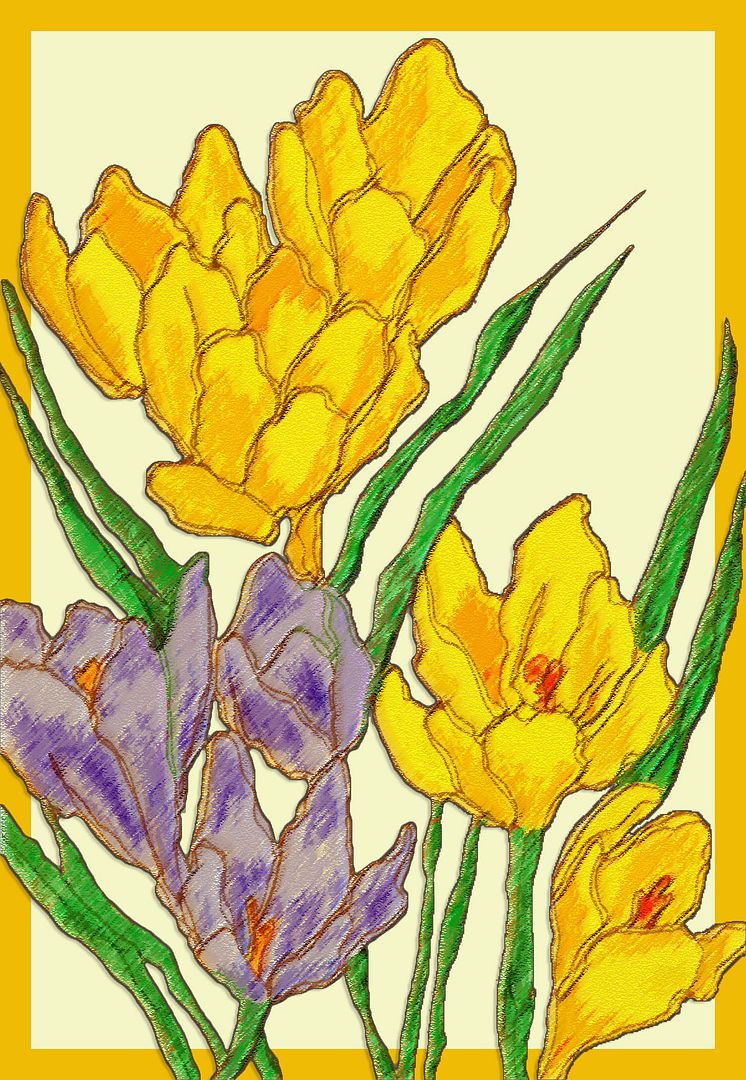 1. All spring flowers are faves! But I'll choose crocus, since they tend to be first to pop up into the spring sunshine. I haven't seen any around here yet, so here's one of my crocus portraits.
2. Seriously, I don't have a formal spring cleaning routine, and I recently moved temporarily again, but I'm looking forward to helping housemate / landlady / Pam with some yard work. Pleasure-filled therapy!
3. I'm still working at not being quite so overly conciliatory, and instead occasionally challenging someone or another one on their words or behaviors.
4. I live in southern Alta California, so the experience of spring typically arrives at about the same time as astronomical spring (20, 21, 22 March). Today the sun shines brightly, with ambient temp of 66F / 19C. However, with the chill in the air, today I'm wearing a light coloured, fairly heavy sweater, and I never ever put away all the sweaters, only the darker, heavier ones. Mittens and gloves? Those stay out until the end of our May Grey! This is a coastal desert, so nights are cool all year round.
5. Why not Song of Solomon 2, for a scripture verse or set of verses from Scripture that speaks "new growth" to me?
For lo, the winter is past, the rain is over and gone;
The flowers appear on the earth; the time of the singing of birds is come, and the voice of the turtle is heard in our land;
The fig tree putteth forth her green figs, and the vines with the tender grape give a good smell. Arise, my love, my fair one, and come away.
Song of Solomon 2:11-13