trash treasure tea 5
, hosted by Deb. Today we get to be excited about one of my all-time fave activities, experiences, and places—thrift stores, charity shops, [usually church] rummage sales, yard and garage sales, etc. I adore our local freecycle group, and have freecyced at least a coupled hundred items. In addition I'll explain that most of my stuff had been in storage for a few months, so in anticipation of one or two short-term local moves and eventually relocating north of here, prior to then I unloaded a lot, and can't legitimately answer 2 or 4 and also can't provide pics at this time.
1.
TREASURE
:
What is the best thing you've ever found at a rummage sale? Was it a bargain or just something you've longed for but couldn't afford?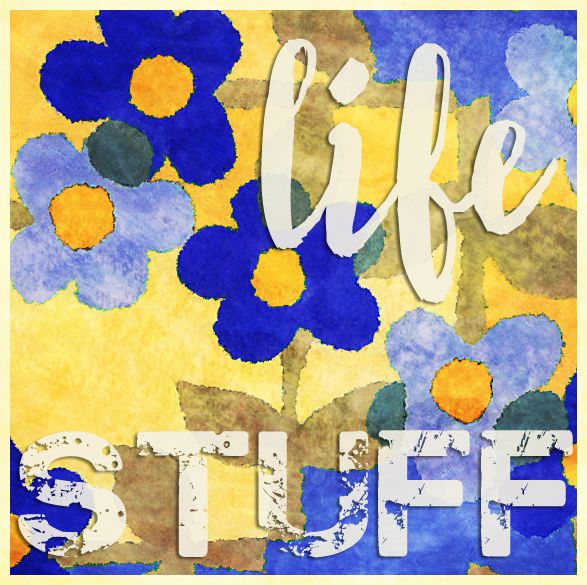 Because I've found so many treasures, this is Impossible to answer, but for now I'll go with the two white Heller plates designed eons ago by iconic designer of almost everything, Massimo Vignelli. If I remember correctly, thy were about $2 each, and currently would be in the $20 – $40 range on eBay.
2.
TRASH
:
What is an item you couldn't WAIT to donate to a sale like this, and then were surprised that someone not only bought it, they were so excited to have?
The Angelical Kitteh Tree my kittehs had played on and loved very very well that got lots of hits when I offered it on freecycle; it had been a wonderful, fairly expensive piece and even included a pawprint appliqué, but had turned into an eyesore even the kittehs ignored. I got at least 5 or 6 hits from people wanting it, and I'd posted a bunch of pics from every angle, so the condition was clear! On the other hand, I was very surprised that only one person wanted a semi-upholstered green chair that once had been a nice piece, was unraveling some, never had been my taste. I knew lots of folks would want to revitalize / re-upholster it, and I was so mistaken.
3.
BUDGET
:
How disciplined are you at these kinds of events? Can you stick to a budget, or do you empty your wallet?
Most things aren't all that expensive, so in general I'll pay for and carry home whatever I think I might want, which means I'll probably find myself with a few things to re-donate very soon into the future.
4.
TAKE IT AWAY
:
What's something you'd gladly donate right this minute if I would just come pick it up?
Per my intro to this post, since I knew I'd be temporarily moving to another place or two within the same city, I'd pretty much donated most of the stuff I wanted to unload.
5.
TEA
:
Do you have a favorite tea? Or a special teapot? Tell us more!
I'm far from a connoisseur of tea, so no faves here, but in general I prefer black teas to herbal. Unsweetened tea literally makes me nauseous, so it needs to have a fair amount of sweetener and preferably some milk. However, I love the various fruit- and berry-flavored ice teas that have become popular in recent decades. I realize there's a distinction amongst what people typically refer to as "tea" drinks, but I couldn't find it with a quick search, so I hope you know what I mean.