The Unguided Pastoral Missile
by Barry Pearman on Amazon.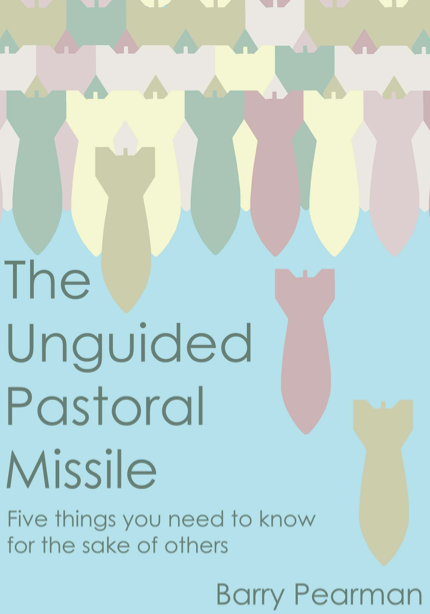 "The Unguided Pastoral Missile" title may make people who aren't serving as church pastors or in a para-pastoral role imagine Barry Pearman's insights and resources in this short book won't apply to them, but they'd be very mistaken. I'll begin by recalling more than one actual pastor I've encountered who was at Stage 1 in the Conscious Competence Learning Matrix: "Unconscious Incompetence (You don't know that you don't know)." Enough said!
On to my review.
The Unguided Pastoral Missile
, "Five things you need to know for the sake of others," is amazingly well-structured, thoroughly considered, doable, and non-overwhelming; it's not a sentence longer than it needs to be.
At the start of the book, Pearman tells us, "Pastoral care takes the visionary lead from the Holy Spirit [Paraclete = called alongside]. ... In reality though, I have come across plenty of people who would consider they are being parakletes. People who come alongside, but instead become Unguided Pastoral Missiles." Yes. Once again, a serious problem, and not exclusively an officially pastoral one.
In fewer than fifty pages, here are practical exercises in becoming consciously disciplined into self-awareness. Most middle-class people will consult a psychotherapist or counselor once or twice or off and on again during their lives, but simply working through this book will help increase self-awareness and social functioning. The narrative, suggestions, and the exercises you can do in your own head or with pencil/pen and paper would be excellent not only for Christians and others who formally serve as pastors, deacons, therapists, teachers, or counselors, but for everyone who hopes to know themselves and their histories better, each person who aspires to do better with others. Pearman provides some scripture references and examples from Jesus of Nazareth's life and ministry. This is about learning to be interdependent as the Trinity is in its perichoretic dance of life! It would make an outstanding, realistic, personal journaling resource, and/or a series of blogging prompts.
Quotes from famous people at the bottom of most pages enrich the presentation, which concludes with a single page of resources: a pair of courses; two websites, including Barry Pearman's own
Turning the Page
that I've subscribed to for a while now; and only eight books. Everything about the entire book is small, manageable, and inspiring.
To conclude,
The Unguided Pastoral Missile
will help anyone "Be there for others, but never leave yourself behind." –Dodinsky
my amazon review:
very definitely not only for pastors!
Disclosure of Material Connection:
I received this book free from the author with no requirement to write a positive review; the opinions in this review are my own. I am disclosing this in accordance with the Federal Trade Commission's 16 CFR Part 255.