By Phil Needham,
When God Becomes Small
on amazon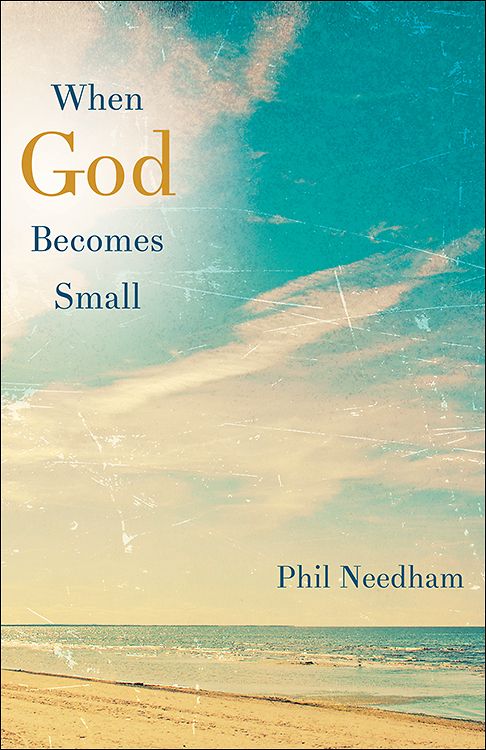 The book title reminds me of Martin Luther's "the God who became small―small enough to die: for us." The gorgeous sky/ocean cover photo that wraps around front to back reminds me of "I hope you still feel small when you stand beside the ocean" in Mark Sanders' and Tia Sillers' song "I Hope You Dance."
Either due to my being slow picking up his general style, or to author Phil Needham's getting into his ideas slowly, at first I found
When God Becomes Small
somewhat disappointing, but I don't know what I expected to find. However, as soon as I got beyond the first chapter, I realized we need to keep rehearing and relearning this message of God's presence in and passion for the minutiae of everyday, (to cite a famous phrase) God's "preferential option" for powerless people, of God's choosing to transform society and world amidst barely noticed events. Among those barely noticed events, the birth of a baby in a Bethlehem stable. Our central Christian hermeneutic is God's incarnation, enfleshment, in the "smallness" of a human creature. Throughout the pages of this book, Needham reminds us of ways to live, appreciate, and celebrate daily life in all the micro stuff that surrounds us and encounters us. I minored in urban studies, but hadn't recently brought together the fact that a mega-metropolis like London is so huge because of all the neighborhoods that built connections (originally mainly roads for traveling) to each other. Phil Needham understands human obsession with super-sizing everything so well!
The author points out how our frequent preoccupation with a remote, unapproachable, immutable, far away Divinity is far more Greek than it is Hebrew. The God of Hebrew scripture, the God of Abraham, Isaac, Jacob, the God who most fully self-reveals in the Aramaic Jew Jesus Christ, is a God near at hand, close by, a God who meets us in the everyday moment, in the most vulnerable among us. God who becomes part of our own stories―slow down; look around! However, having observed too many tasks done poorly within church building walls and at church-sponsored events, I love Phil's caution that real life lived out in small encounters does not mean sloppy, badly performed, embarrassingly inept. The prose flows gracefully through about 150 pages, so this would be an excellent book to loan to or maybe gift to that person you know who carries negative and inaccurate stereotypes about the church and about Christianity.
Phil Needham includes quotes and examples from some well-known and slightly lesser-known people; the bibliography at the end is a very manageable Works Cited.
Legal Notice in accordance with the Federal Trade Commission's 16 CFR Part 255: I received a copy of this book from the publisher via Amazon Vine with no obligation to write a positive review.
my amazon review:
excellent in every way