It's mid-November, and MaryBeth hosts an
Advent of Advent Friday 5
.
I invite you to sit quietly ... and consider five things about Advent. They might be images, practices, hymns, anything you like. Just let the thoughts wash over you. Be peaceful with them. Be blessed with them.
1. I'm excited as we begin a New Year of Grace we'll again be in Mark's lectionary year and start out loud, clear, brazen, and pleading with one of my favourites,
Isaiah 64:1-9
—"O that you would tear open the heavens and come down, so that the mountains would quake at your presence!"
2. I love Michael Spyres' glorious interpretation of "Comfort, ye." As one of the commenters on the video insisted, "It is supposed to ring above the hills like a clarion," as this performance does. Truly.
3.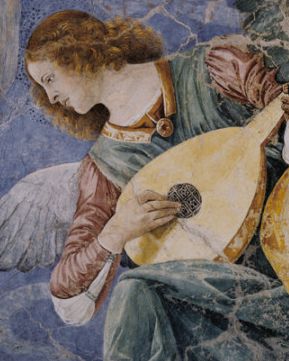 The annual Lessons & Carols: A Festival in Word & Song to Prepare for Christmas at University of San Diego on Friday, 05 December 7:30 and Sunday, 07 December 2 pm. Two years ago I attended both days, because I had to hear Daniel Pinkham's (auto-corrected to "Pumpkin," but I caught it. Too bad?!) Christmas Cantata twice. The site hasn't yet listed this year's music.
4. A short list of fave Advent hymns includes "Prepare the Way, O Zion, "Lift up your heads, ye might gates," "Wake, Awake" (along with the many fabulous organ settings of «Wachet auf»), "Lo, He Comes with Clouds Descending." All those are super-fun to lead from the organ, too.
5. Shorter days, longer nights as we anticipate Winter Solstice and get to light more candles, wear lighter, brighter – sometimes funner – clothes... Why do some people think autumn and winter signal a time to begin wearing dark somber colours?
PS Because of YT vids coming and going, I've deleted direct links, but kept the song titles so you can find your own vids.