The Art of Helping Others
: How Artists Can Serve God and Love the World
Disclosure of Material Connection: I received this book free from the Speakeasy with no requirement to write a positive review; the opinions in this review are my own. I am disclosing this in accordance with the Federal Trade Commission's 16 CFR Part 255.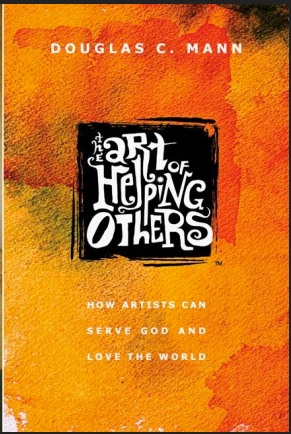 Creative Inciters in our midst! How interesting that The Speakeasy emailed me about this book months and months ago, but I finally decided I needed it after I noticed someone else's review, and for sure it is timely, apropos, and necessary for me at this time. Why? I sprung for this book because technically I'm an artist-designer and also a performing musician. I write some too, but I don't consider my writing a true aspect of my creativity. As happens to most people at one time or several, I've found myself too socially isolated for too long. I've almost entirely drained the stored value from prior life experiences and previous relationships. This is running on empty. Trying to crawl without essentials. Need refueling, refilling, and revitalizing! I'm dreaming of and trying to regenerate some creativity in my life and throughout my days.
In any case. please check out this short, useful, inspiring handbook because most likely you also need – or can use – Douglas C. Mann's exciting information and challenging ideas. I love the intriguing section and chapter titles, as well sub-sections with their own descriptive headings within each chapter. Each chapter concludes with two or three questions you can ask yourself, ask each other in almost any kind of group―formally creative or not, because everyone can become a creative inciter. Maybe discuss them with your therapist? Counselor? Life Coach? So many provocative, disturbing, life changing, world-impacting questions, ideas, and challenges. Sometimes church-impacting and changing, too.
Mann is a visual artist/painter and a songwriter; he previously has worked as a book publishing and as a music industry executive. The appealing temptation of Being Zen benefits self and others, but as Christians we need to be engaged and involved. In church? Sometimes. But most of the time in the world. "to... flourish requires others. To find contentment by being connected in relationships. God made us this way." (page 48)
[page 59] How about the earbud lifestyle? Always plugged into social media. Recently claiming a pair of really good (as in $100++) headphones via amazon vine excited me mightily, because that means I can do without those little earbuds in some times and some places. But "earbud" here is metaphor at least as much as earbud describes many folks' self-sheltered, selfie-documented, non-interactive, uncommunicative, isolated existences.
How will we live as creatives? How will I live as a creative? You know a reflective zen lifestyle could be tempting, but you also realize (page 88) "Life, like art, is a shared experience." (pages 92-93) And we need to follow Jesus' examples of occasional retreats into prayer-filled solitude. Discovering my own supplies manifesto page 126) will be my best and greatest challenge from this book. Douglas Mann creates through an intentionally Christian lens, but if you are not from or currently within a religious or spiritual tradition, please get this book. Important note: what a fabulous cover design!
Although the content of The Art of Helping Others rates five stars, I've removed a star because the writing could be a lot better and livelier. Too, too many passive voices that make too many sentences simply lie down and almost die. The book includes black and whites of some of Mann's paintings, so of course I wanted to view the full-colour versions. However, neither the author's self-titled website nor his Danko Art Studio site were live the times I tried to visit them, but I found Douglas Mann's
Danko Art Studio
page and his
Art of Helping Others
on fb.
my amazon review:
inspiration for creative inciters