Daily Bread, Holy Meal
: Opening the Gifts of Holy Communion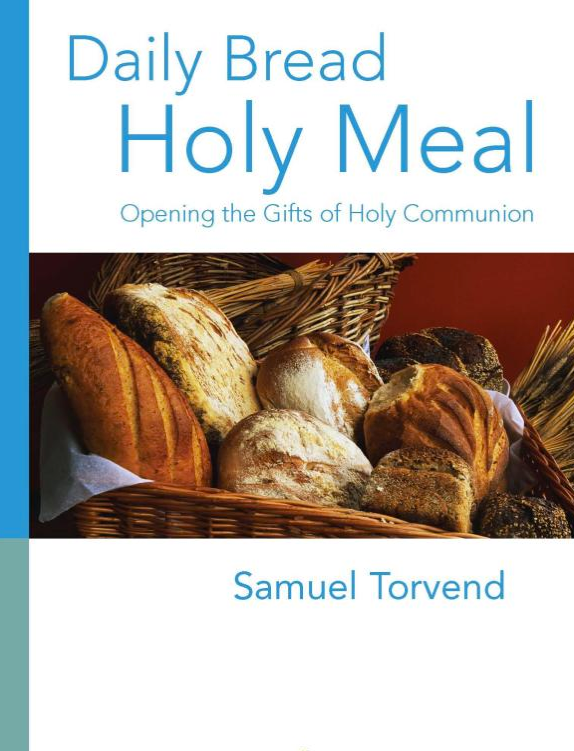 Daily Bread, Holy Meal is chronologically the earlier of Samuel Torvend's pair of books about the sacraments. In his short book about baptism, Flowing Water, Uncommon Birth, (among other details) Torvend describes the sober intentionality of preparation for baptism in some communities – particularly in those days of yore – and the expansive size of some baptismal fonts that helped emphasize its importance. In this second notebook, (also among other details) he gives us various meanings of The Meal: thanksgiving; inclusion; lives poured out; forgiveness, reconciliation... just as in his short book on baptism, the author draws upon the life of Jesus of Nazareth and his disciples, Pauline epistles, and passages from the Hebrew Bible. In fact, he brings us everything you've ever read, learned, heard, or experienced about HC—and then some: so very many possible images and realities related to the Holy Meal, not a single one exclusive of any of the others.
At the end of each chapter, Flowing Water and Daily Bread both include a few questions for the reader, and at the end of the book, a chapter-by-chapter bibliography. An excellent resource if you're a pastor, seminarian, deacon, preacher, theology geek, or liturgy aficionado. Useful and enlightening, too, for an occasional pew-sitter, or an outsider who wonders what on earth it's all about.
I love that Samuel Torvend includes his grandmother's recipe for Molasses Raisin Bread!
my amazon review:
about the eucharist