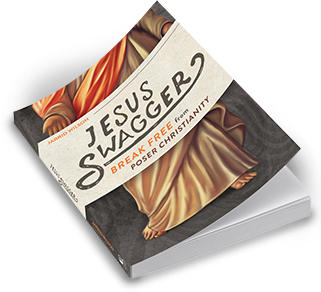 Jesus Swagger
:
Break Free from Poser Christianity
by Jarrid Wilson on Amazon.
Jesus Swagger
, the website.
"Jesus swagger is a relentless, bold, and audacious way of living―one that ignores all opposition in order to live out the life that Christ has called us to live." ―definition on page 128 at the conclusion of the author's reflections on the life, death, testimony, and witness of Dietrich Bonhoeffer. Besides Bonhoeffer, Wilson writes about two other mega-superstar Christians he admires tremendously: Martin Luther King, Jr., and Mother Teresa of Kolkata. You know, those usual, typical examples the rest of us can't imagine emulating, yet Jesus Swagger the book is about ways those rest of us more ordinary followers of Jesus can impact the world, can initiate true transformations in lives around us and in our own lives.
When a person assumes Jesus Swagger, they "break free from poser Christianity." Millennial Pastor Jarrid Wilson brings us a readable, challenging book about actually doing the Word and being the Word. About being the change the world needs. What lifestyle do our actions and our appearance suggest and portray? [pages 34-35] Why would we plant ourselves anywhere we wouldn't get rich soil and proper nutrients? Too often too many of us do, but in author Jarrid's experience (and mine, as well) God tends to uproot and replant us into better surroundings. That's grace. Yet how about getting into the midst of secular culture to help transform it with your Jesus swagger style? [page 92] "...Jesus came to reclaim culture, not reject it."
This is about my story! [page 79] "When I begin to evaluate what people are actually looking for in a church setting, none times out of ten I will get a response that has to do with finding a community of
people to do life with
." (italics mine) Jarrid continues, "If this is the case, then I can't see why an Acts 2 model of a deepened sense of community and founded on the power of the Holy Spirit would not work."
Jesus gives not a hint of obedience to provide our best happiness here and now, but rather obedience acknowledges "...the pure, all-encompassing rightness of God's commandments, and how critical they are to the foundation of a righteous life." [page 112] Partial obedience is disobedience. [xxiv] When anyone starts rocking Jesus swagger, "The old you will slowly be transformed into a righteous individual who seeks justice, grace, and the pursuit of righteous living." I love the word
slowly
, because if you've been following Jesus for any length of time, most likely you get discouraged and close to despair at times, yet every one of us probably can glance back and excitedly realize how far God has brought us. [pages 99-100]
This is such a good book! Accessible to a brand-new Christian and to a seasoned one; for content, Jesus Swagger gets a solid four star rating, moving in the five star direction. However, although Wilson writes well and conveys his ideas with conviction, he uses passive voice far too many times―to the extent passive pretty much pervades the book. I'd love to see the next edition of
Jesus Swagger
with the same basic content edited for more dynamically expressive English.
I received a copy of this book from author, publisher, distributor, publicist, or agent with no requirement to write a positive review. I am disclosing this in accordance with the Federal Trade Commission's 16 CFR, Part 255.
my amazon review:
live the word; be the word