Welcome one another, just as Christ has welcomed you, for the glory of God. // Wherefore receive ye one another, as Christ also received us to the glory of God. Romans 15:7
This blog post is part of the
June Synchroblog
that invites us to consider
Hospitality
. To jump start our inspiration, they suggested some ideas. Although I'm mostly drawing on my own experiences and on scripture, I'll also address their first question:
Is hospitality an essential element of imitating Christ?
I'm synchroblogging again!
Hospitality
long has been a hot button topic for me; I've blogged about it at least a couple dozen times, so why not one more time? Hospitality is a central biblical theme; in scripture we learn about Israel's and the Church's essential call to welcome the stranger, to make a place for the passerby and passersby, for the sojourner (remember, "resident alien?") in our midst.
My header image for this topic is the credence table at one of the churches I often attend; the painting is a trinitarian icon, the Hospitality of Abraham by Andrei Rublev. It illustrates the account of Abraham's three visitors in
Genesis 18:1-15
. The artist drew this icon with the side of the table closest to us wide open: a place for each of us at God's Table of grace.
The history of God's people Israel and the New Testament stories of Jesus demonstrate how God's presence often is literally embodied in the stranger, in the other-than-us. At the same time, that visitor often experiences God's grace in our welcoming hospitality. I have a story to tell! For the past few years I've sometimes helped prepare, usually helped serve Thursday evening community dinners at Church Around the Corner. We call these free of charge meals (donations happily accepted) family dinners, yet to expect anyone to interact with strangers or even with new, grafted-on family (in-laws, far-flung cousins, adoptees) as they do with biological family and other lifelong or longtime intimates is far removed from everyone's reality and most people's capabilities. Any kindergartener realizes people who are new to us can be threatening, dangerous, and challenging on physical, emotional, and spiritual levels.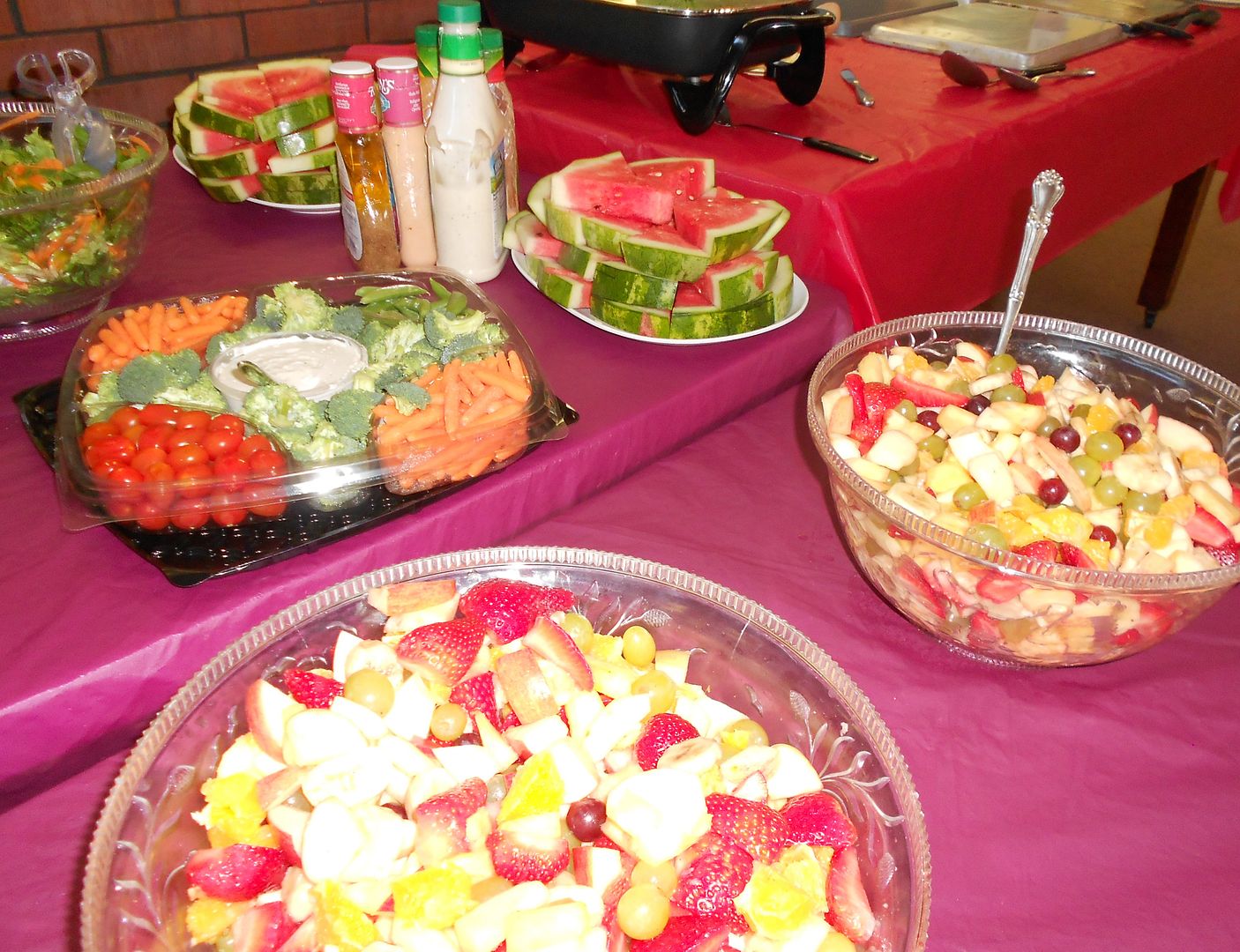 Ritual, repeated, structured, actions can help bind people together, can begin to create community among unlikes and unequals. However, even fairly simple worship services and liturgical practices can seem strange (possibly threatening?!) to church newcomers. Walter Brueggemann reminds us, "justice is important, but food is essential." Thursday evening diners typically consist of members of that particular congregation, close friends of that congregation (like me), parents and kids from the church choir programs that meet late Thursday afternoon, low income and other nearby residents, a few folks who mostly live under the bridge. Structured, ritualized Thursday evening activity starts out with everyone gathering in a circle for prayer at 5:30; 6 or 8 of us donning gloves and standing behind the serving table; everyone else getting in line in order to be served, then returning to the seat they've staked out at one of the round tables that each seats 8, or finding a seat with someone they already know or never have met. Sometimes checking the serving table for seconds. Always traveling to the dessert table for two or three ice cream flavors, chocolate syrup, whipped cream, cookies and/or cake. Busing your dishes to the station near the kitchen. Along with the leveling experience of sharing food, these weekly, repeated, actions have been creating community among people who are somewhat like one another, somewhat different from, similar in education or interests, different in income and experience. What a wonderful, safe, essential ministry by, for, and to everyone involved!
Side note
: after necessarily banning a couple of people, we finally posted a list of behavioral and self-presentation guidelines for participants.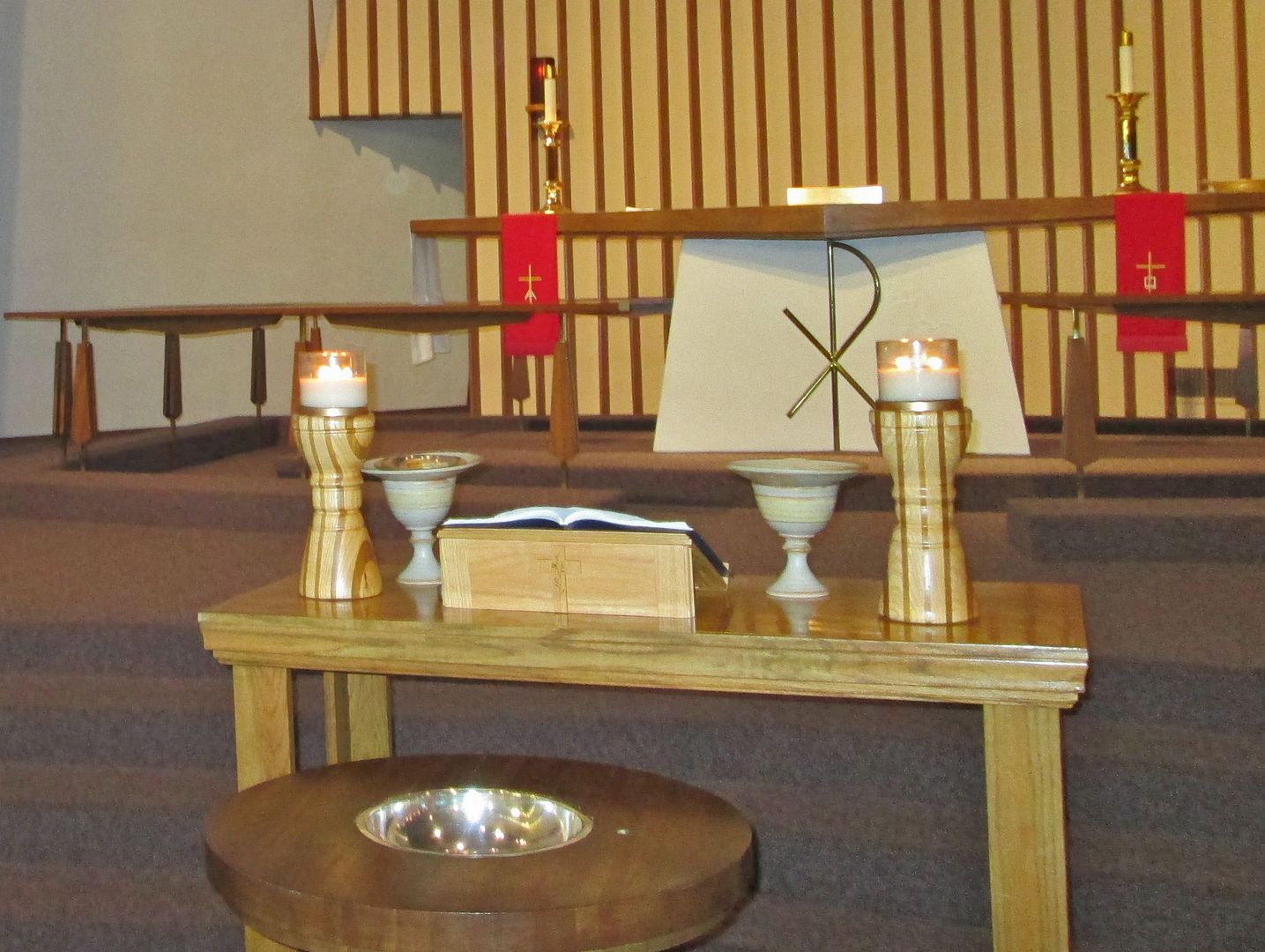 Anyone who knows me knows I'm everyone's Best Friend Forever, yet scripture's vision for hospitality is far removed from the social and psychological intimacy of Best Friends Forever—it's closer to welcoming without questioning, including without reservation. So honestly, even though I may be (and you know I am) everyone's BFF. there still are people out there and closer at hand that I don't want much to do with. Yet I know – in the church we all know and have experienced – God's promised presence in the Lord's Supper, in literal Holy Communion, where God is our host and offers unquestioned, inclusive hospitality at the Table of grace and reconciliation.
Does our everyday practice of inclusion (or of suspicious questioning, possibly of exclusion) align with the model for hospitality we know at the Lord's table? Does our practice of Holy Communion create a model for our every day of the week grace-filled hospitality? In Rublev's trinitarian icon, the side of the table closest to us is open: a place for each us at the heavenly banquet. How about us? Do we leave an open place at the table and a comfortable chair for others? Is hospitality an essential element of imitating Christ?
Welcome one another, just as Christ has welcomed you, for the glory of God. // Wherefore receive ye one another, as Christ also received us to the glory of God. Romans 15:7
Other June Synchroblog Participants: