Sacramental Politics
: Religious Worship as Political Action (Frontiers in Political Communication) by Brian Kaylor on Amazon
Notice of material connection: I received this book for free from
The Speakeasy
, with no requirement to write a positive review. I am disclosing this to comply with the Federal Trade Commission's 16 CFR Part 255.
Interesting, uneven, and thought-provoking—also essential, if you dare!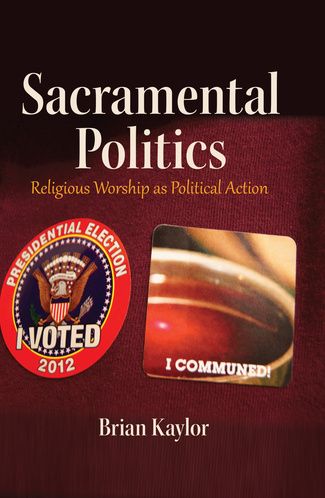 Such an important book! Everyone in the USA and elsewhere who sometimes attends church and/or calls themselves Christian could benefit from reading and considering
Sacramental Politics
. Unlike some other countries, USA never officially has possessed an established church or religion, yet author Brian Kaylor mostly reflects upon and analyzes politically-oriented religious behaviors in the contemporary USA, though he delves a bit into this country's political past, mentions the Confessing Church in Germany with its Barmen Declaration, and also discusses this country's most active branch of the Anglican Communion, The Episcopal Church USA. How fascinating that with our institutional separation, functional interaction of religion and politics in this country, they routinely have prayer rooms at the party connections. I think I knew that, but...
Overall, author Kaylor's perspective is not what some of us might observe and reflect upon regarding the dominical sacraments / ordinances of baptism and holy communion being politically, socially, and culturally subversive. In fact, he never quite gets there, possibly because of his anabaptist background, but he offers so much else. It's impossible to highlight all the rich highlights in a review or even in a basic book report, so I'll mention only a few.
The seven chapters includes (the biblical number) seven categories; to entice you to start reading, they're about Religious Worship as ...
(1) Political Rhetoric
(2) Partisan Politics
(3) Public Policy Promotion
(4) Political Messaging
(5) Political Space
(6) Inherent Political Action
(7) Politics
So many aspects of our lives as Christians to consider! Whenever someone complains about "politics" in the church in a club, or anywhere, I remind them "to be human is to be political." At least that's been the case since humans moved away and grew their affiliation groups larger than Abraham of Ur's nuclear family. Are our public prayers as pastors, as lay people, as politicians, or as office holders directed only to Divinity, or are they news bulletins and hortatory speeches primarily intended for the human audience? Is God's political party red, blue, purple, or other? Does God even "do" politics? Given that Jesus died from the actions of imperial powers, God clearly has been majorly involved not only in religious practices, but also in political, cultural, and general human endeavors of every kind.
When we interpret scripture, have we gotten into the irresponsible habit of imposing our perspectives and predilections onto the scriptural texts―eisegesis? Or do we at least attempt faithfully to extract and apply scripture's perspectives onto our decisions and into our daily lives―exegesis? It can be close to impossible to separate out our social, cultural, and political experiences from the witness of scripture. Faithfully contextualizing texts that come from a very different culture and that variously are between 4,000 and 2,000 years old always is difficult and dangerous. They didn't have parliamentary government, the great republic's
imperium in imperio
, internet fund-raisers, or corporate lobbying, and it's truly impossible to overlay a lot of scripture injunctions onto our current ways of being and living. A king like the other nations? The parliament that appears so effective for that country in the other hemisphere that also has a much smaller, far less diverse population?
The book's early chapters that dissect and analyze the content of praying, preaching, campaigns, etc. became confusing, mind-boggling, dull and repetitious. A lot of that information would be more clearly presented as a chart or in a table. My favorite chapter and probably the best-written and most clearly expressed is chapter 5, "Religious Worship as Political Space." Partly because public and liturgical space is a favorite topic of mine, partly because I know about Friendship Park and ongoing concerns about the international border between USA and Mexico. I've participated in the annual
Posada sin Fronteras
at least twice, but that was before the feds put up yet another barrier wall to interfere even more with interactions between the two countries.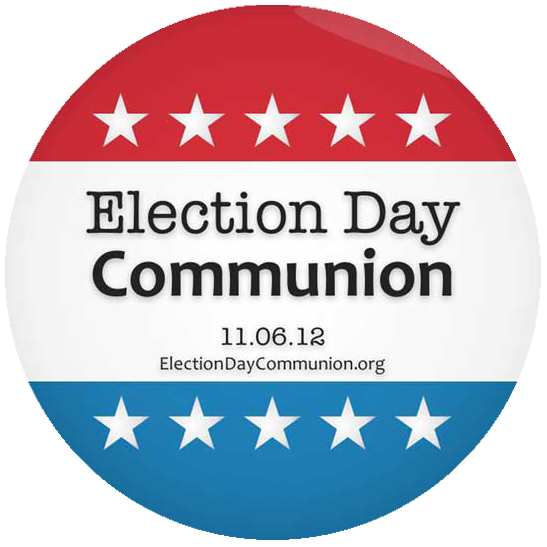 Probably due to my being in several states of disarray at the time, despite being online a lot, I'd missed out hearing out and participating in Election Day Communion on Election Day Night in 2012, but I'll be looking for one in 2016!
Brian Kaylor's vision and resulting content of Sacramental Politics is important for anyone, but the entire book needs a thorough, tight, no-holds-barred editing. Many paragraphs are long and unclear, and
Sacramental Politics
probably wins the prize for total number of parenthetical remarks and observations. Most of those could be eliminated and their content expressed in other ways. Many probably aren't even necessary! I noticed several misspellings that an editor probably would have caught and changed, and it's Agnus Dei – not Angus Dei – something autocorrect most likely didn't know. Also, despite the literary convention of sometimes using a noun as an adjective and that I like a lot, "Episcopalian" is the noun, "episcopal" the descriptive adjective. It may feel like another minor quibble, but it would be good if Kaylor would indicate United Methodist if that's the church body he's referring to, and in a similar way ELCA/ Evangelical Lutheran Church in America or PC(USA) Presbyterian Church USA if those are his referents. Because there also are more conservative – rather than progressive mainline – denominations with the names "methodist, lutheran, and presbyterian," it's important to specify which. Also, I found almost every one of the quotes from other documents or sources extremely interesting, so why not format them in the same easily-readable type size as the rest of the text, yet still indent it in blockquote style?
If the author edits and updates this book, it would be wise for him to run the content past people actively involved in each Christian tradition. For example, some Lutherans and other protestants offer an option for the private, individual confession that Roman Catholics nowadays call the sacrament of reconciliation, but like most other protestants, Lutherans claim only two actual sacraments: baptism and holy communion—confession and Absolution/Penance lacks a physical, sensible, earthly "sign." Although Latter-day Saints often refer to their main weekly worship service that features the bread and cup of Holy Communion as "Sacrament Meeting," they use the terminology of ordinance rather than sacrament, so no, the LDS church does not have only one sacrament, but quite a few ordinances. The first church of my involvement was American Baptist-USA, but I'm not acquainted with current liberal baptist practices and even if I were involved in a community of baptists, with their truly local polity my experience might be far different from most others. Martin Luther's Two Kingdoms theology confuses even those from a solid confessional Lutheran background, but briefly, none of the Reformers could imagine any aspect of life being outside God's divine sovereignty.
If any congregations, pastors, judicatories or even lone solitary individuals would dare, they need to read and consider this book! Because Sacramental Politics focuses almost exclusively on the USA, they'll discover God never has been a Democrat of any era or any variety, a Republican from any place or space, a Libertarian, a Communist or a member of the Green party, or even a declared Independent. But you know, God still is passionately political!
The book includes scores of useful references and an index.
my amazon review:
interesting, uneven, and thought-provoking—also essential, if you dare!