Time again for Kate Montaung's
Five Minute Friday
; "here" is word of the week and it's Kate's 1-year anniversary of hosting 5 minute Friday! Congrats to Kate!
You know how this works: write for 5 minutes, unedited.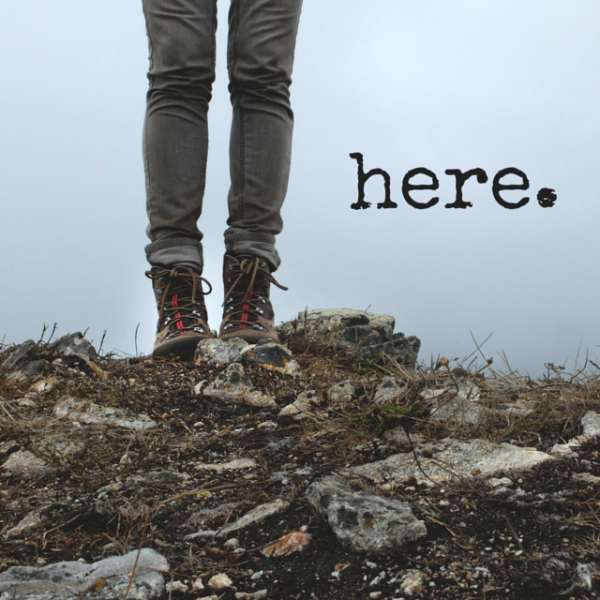 This weeks "here" prompt instantly brought Marty Haugen's hymn "Gather Us In – Here In This Place" into my right here and right now.
Here in this place new light is streaming,
now is the darkness vanished away;

Here we will take the wine and the water,
here we will take the bread of new birth,
here you shall call your sons and your daughters,
call us anew to be salt for the earth.

here in this place new light is shining,
now is the kingdom, and now is the day.
"Here" and now are essential ways to live our lives. Although William Faulkner reminds us the past keeps overtaking the present minute by minute (in other words, it's never ever truly past, gone, and over), yet we only can live in this moment, this place. The future's not here yet, and physically – if not psychologically or in terms of memories – the past is long far gone. Over the past decade I've spent a lot of time, a whole lot of time, revisiting past places, people, and situations I'd love to duplicate to some extent in my future; I've tried imagining versions of past events into this here and this now. Good idea or a bad one? As long as it's not my sole mode of being, it can be helpful and healthy and hope-filled.
Whenever we celebrate The Lord's Supper, Holy Communion, the Eucharist we celebrate with all the people of God in every time and every place: past, present, and future. We bring past places and past times into this right now, into this right here; we reach into an unknown future as we retrieve and bring an eschatological here, a future full of justice, love, and shalom for all creation into this now, into this here. Jesus calls us, the HS enables us to re-member, re-create and anticipate
now is the kingdom, and now is the day — here is the kingdom and here is the day.
I found quite a few videos of
Gather Us In
with lyrics on YT; here's one of them:
Gather Us In
I'm taking a cue from Praying on the Prairie and formatting my last paragraph that's not part of my 5 minutes differently. My actual post is short, so I may have spent too much time remembering the words to "Gather Us In." And I especially love the picture Kate provided! As a designer I use a lot of fixed-width typewriter style fonts for my own design. I also love the boots and jeans look that I often rock during cooler weather—it's natural, preppy, and a bit retro, just like the typeface.