Life Lessons from a Bad Quaker
:
A Humble Stumble Toward Simplicity and Grace
on Amazon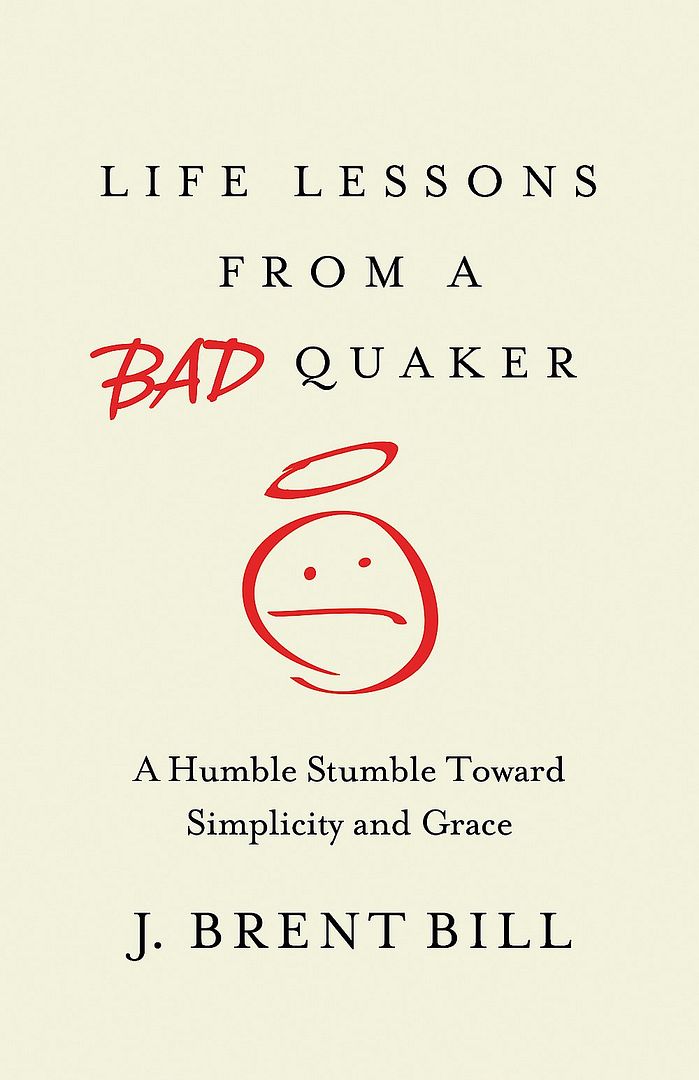 Friend and friend Brent's brand-new book (released just yesterday!) brings us a panorama of a few more or less typical days in the several and varied lives of a Bad Quaker hoping to become better by following Jesus more closely. Not too long, easy to read, fun to read, yet packed with probing questions about Jesus' clear examples and our own lifestyles.
Technically Brent is a birthright Quaker or cradle Quaker, someone literally born into that expression of Christianity. Early in the book he explains how he still needed to assess and claim the Quaker tradition for himself because there's an element of human choice and decision to follow a particular style of Christianity within the broader Way of the Nazarene Jesus. Brent tells us why simply living as Jesus' Friend is best for him. What church tradition or denomination has God called you to at this time? And why? "No one right answer," as Brent reminds us in the quick questions sprinkled through this book.
Most Americans have some awareness of the rotund guy in a black hat featured on packages of Quaker cereal products. Per the Quaker cereal website, he "is not an actual person. His image is that of a man dressed in the Quaker garb, chosen because the Quaker faith projected the values of honesty, integrity, purity and strength." Some people confuse Quakers with other Christian groups who aim to live simply, whose worship is less formally liturgical―although some Quaker worship is programmed. Amish, Mennonites, Church of the Brethren also come to mind as examples of simple Christianity; Restoration Movements in the USA during the 19th century also attempted to reclaim a more basic, foundational, New Testament Christianity. Most of my own church and Jesus experience is solidly within the theological and liturgical traditions of the Protestant Mainline, and that means an emphasis on sacraments and on scriptural scholarship, with wonderfully effective histories of social and political activism. Like myself, many within the Mainline Churches USA are not especially adept at being quiet and waiting on the Spirit to move among us. In fact, I tend to be as much of a human doing as I am a human being.
Similar to at least a half-dozen books I've read in the past year or two, Life Lessons from a Bad Quaker by J. Brent Bill encourages me to observe the world around me, assess how I relate to the people in that world, to keep asking "what would Jesus do," cuz as trite as that question sounds by now, in the Spirit of Life God calls us and enables us to be Jesus here and now, to do what Jesus would do, even to say the words Jesus might choose. The Quaker faith still projects values of "honesty, integrity, purity and strength" with each individual's life totally immersed in the very sacramental "holy ordinary" that happens to be the title of
one of Brent's blogs
. Maybe surprisingly, The Society of Friends does not celebrate sacraments or ordinances in the orderly programmatic sense those of us in more mainstream mainline church bodies do.
Life Lessons from a Bad Quaker brings us much more of the practical than of the theoretical. Did I mention what a human doing I naturally tend to be? That's right, I did, but in spite of that tendency, my drive to do needs a whole lot of refinement and some redefining. I'd benefit a whole lot by creating my own Life Lessons journal of some days in my own life. Maybe you would, too? Popularized by the majorly successful
Godspell
, Richard of Chichester's prayer pleads "May I know Thee more clearly, love Thee more dearly, follow Thee more nearly." Brent's newest book just may lead you to know, love, and follow Jesus with more simplicity and more grace.
my amazon review:
For a Closer Walk with Jesus―really!
Notice of material connection in accordance with the Federal Trade Commission's 16 CFR Part 255: I received a prepublication ARC of this book from author (in this case), publisher, distributor, publicist, etc. with no requirement to write a positive review. As always, my opinions are my own.