Kristin Hill Taylor's Three Word Wednesday linkup this week explores how to
Live Generously Together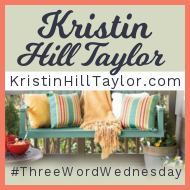 Due to "internet connectivity" troubles I haven't participated in Three Word Wednesday for a couple of months. Last week's Wide Open Spaces grabbed me, and I even grabbed one of my watercolors of the Arizona desert as an illustration, but the linkup deadline passed and since I've been doing #write31days and had paid work to catch up with, I let it go. There will be [many] more Wednesdays.
Over too long a time I've had major difficulties finding opportunities that draw upon and exploit my abilities. I keep remembering senior pastor in City of History telling me, "With your abilities, you can afford to be generous." I find it very easy to speak up, step up, and offer to do almost any task related to my gifts for art, design, and music, to my interest in food and hospitality. I have a healthy sense of my abilities, strong memories and some pride in the work, effort, and time is has taken me to achieve my current levels of proficiency. I also try to maintain a strong sense of
noblesse oblige
, not act "superior" or "better than," go to the sidelines rather than offering to help or maybe even do something another person is struggling with. I've developed habits of kindness alongside developing my gifts and skills.
That's my first take on generous—living in community so my background and experiences can enrich the individuals around me, yet (per one of Kristin's shoutouts) noticing being sensitive to other people's needs and their vulnerabilities. It also means complimenting others when they contribute—generosity with my observations rather than retreating into my own ongoing pain; generosity with my praise.
After telling us the Bake Sale story, Kristin asked, "how do you teach your kids about giving? What are some service projects that have worked well for you?"
No human kids at home right now, but I'll let the service project question segue into a review of some church and community direct service I've especially liked. In every case these take valuable time that otherwise could be spent doing something recreational or earning a few $$$. For the most part, food events have been the best! Sharing a meal tends to be a leveling time—though not always. I've written here about Thursday night community dinners at Church Around the Corner in Previous City more than once. Probably a half-dozen times, at least. Sharing a meal often is an experience that creates cohorts, colleagues, and equals. Even if one party (like the kitchen staff and servers at Church Around the Corner) have prepared and offered the meal, as soon as we sit around the same table as com-panions those distinctions don't matter much. Yes, we hosted our friends and neighbors, church members, choir parents and friends of the congregation, but most weeks a local retailer generously provided most of the food. This picture proves I [almost] always loved the salads the best!
It's time for me to finish up my daily October #write31days post, but I'll include a reason Thursday family dinners impacted me so. More than a dozen years ago in my formal pilgrimage in faith I wrote, "Both my experiences of inclusion in the community and those of exclusion from the community – especially the community of faith, but also in many places and spaces in the world outside of and beyond the gathered People of God – have been significant to my growth in faith." Most cutting, hurtful, and devastating have been those times people have excluded me from eating with them. In middle school or high school? Almost never. I refer to times I was a reasonably chronologically and behaviorally mature adult, excluded by my peers.
Kristin's kids held a bake sale to help a ministry in Guatemala.