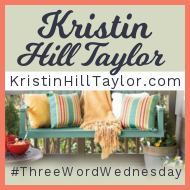 On her Three Word Wednesday Kristin tells us about a Paper Plate Thanksgiving she celebrated and
enjoyed last weekend
. Thanksgiving day USA is eight days away; thanks to the church I serendipitously discovered and began attending, last year was the first time in forever I was able to invite people to Thanksgiving dinner. Again next Thursday we'll worship as a community of friends, neighbors, strangers, and newcomers, and then feast on traditional turkey and trimmings. Preparing fancy food and decorating for any holiday can be exciting, but I resonate with Kristin's talk about paper plates rather than stoneware or china, about not even putting on shoes because the company, the community, and the taste and nourishment of the gifts of creation harvested from the earth are the main focus. You know we need to weigh economic and environmental costs of dishes and flatware for a large gathering—for example, for Sunday after-liturgy brunch at church we now use very few disposable anythings. But sometimes their are so many guests, the meeting space is small, not enough time or kitchen real estate to prepare multiple course meals. So what do you do? You need to lighten up some less important preferences, back away a few notches from your ideal. That's a "what's really important"message to myself.
Thanksgiving Day on the way—I haven't been doing a daily Facebook or journal gratitude list, so why not make one here. Kristin concluded with, "Being surrounded by my favorites filled my soul." This year I'm still grateful to have a roof over my head every night, enough food in my belly every day. Amazed to have been teaching every Sunday for the past year—all the way through Luke's lectionary year, guiding and being guided through another year of grace. Still dismayed I'm in another temp housing situation and haven't found anything long-term yet. The Chicago Cubs won the World Series. I love to remind people how baseball mirrors the dramas, the slowness, the surprises, the anything can happens in our own lives. Now what? Is the test of my keeping covenant staying put, doing what each day's work and tasks demands, or is getting out there and risking another move the test of my trust? I don't know. I do know I still long, yearn, ache, and need to be surrounded by my own favorites now and then. My own soul needs filling again.
Deuteronomy 26:2,11

You shall take some of the first of all the fruit of the ground, which you harvest from the land that the Lord your God is giving you, and you shall put it in a basket and go to the place that the Lord your God will choose as a dwelling for his name. 11Then you, together with the Levites and the strangers who reside among you, shall celebrate with all the bounty that the Lord your God has given to you and to your house.