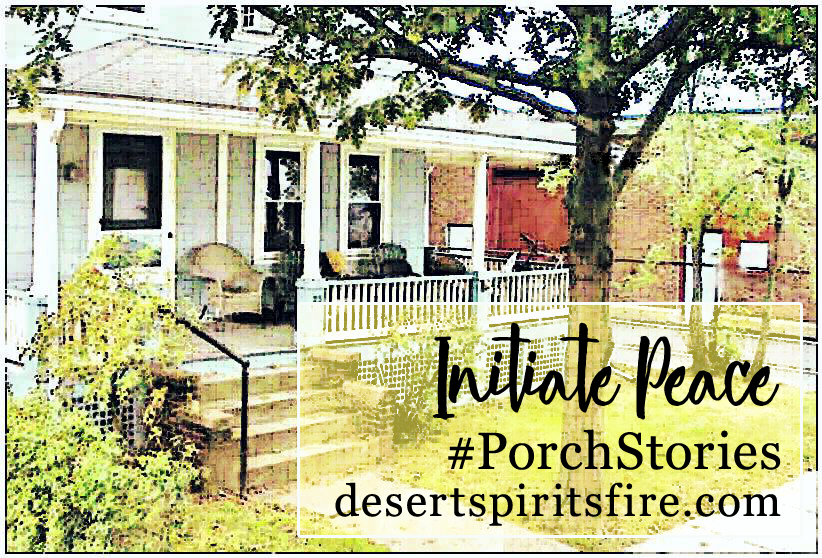 Kristin Hill Taylor's weekly Wednesday linkup has changed from Three Word Wednesday into Porch Stories! Today she wisely writes about God's call to
Initiate Peace
. Kristin's inspiration?
Lisa-Jo Baker wrote about "shalom" in her coming-soon book Never Unfriended: The Secret to Finding and Keeping Lasting Friendships. This book is even better than I expected and I'm excited to share more of it with you.

But today I want to tell you about what she said about shalom, which is more than the absence of conflict. It's interactive – and it's in the Bible more than 200 times. So let's grab initiative and let's bring peace to whoever is near.
As Kristin explained, the Hebrew word and concept "shalom" extends far beyond absence of war or conflict; shalom intrinsically belongs to God's manner of living together in community, whether that "common unity" is nuclear-extended family, a particular group that gathers around Word and Sacrament as a local expression of God's called-out assembly—
ecclesia
; a school of any educational level dedicated to providing the best for students and teachers, a neighborhood within a city striving not to neglect anyone's needs, aiming to provide that shalom-filled "enough" food, shelter, hope, and friendship to all comers of all ages and stages. It's true when the apostle Paul and his successors open their letters with "Grace and Peace" their word for peace is the Greek
eirene
that gives us "irenic" in English, but with Saul/Paul's Hebrew background his offer of the peace of Jesus Christ had to be fullness of care-filled community where no one lacked, not one had more than they needed. Paul, etc. did not refer to no-apparent-conflict or to the not-Roman, not-peace-filled Pax Romana.
Shalom's about our sensing and responding to promptings of the Spirit of Peace and doing what we can to initiate peace wherever we are, and as usual, rather than imagining God sending us to venues far away, we need to ask, "what would Jesus do?" Because in this here and this now, in the Spirit of LIfe Jesus calls us to be his voice, his hands and feet, his presence amidst whatever's surging and storming around us. Or quietly nudging. Remember, Kristin reminds us shalom is interactive. It happens when we listen to each other. When we do whatever we can do attend to the needs of a friend, a neighbor, a stranger who soon may become our neighbor or even our close friend. So simple, really. Don't quench the Spirit. Don't try to block out or explain away God's moment to moment promptings.
For this year 2017 that marks the 500
th
anniversary of the formal beginning of the continental European Protestant Reformation, we've seen a renewed appreciation of Martin Luther's emphasis on God's various callings to each of us; for the Reformers, every task and occupation was a calling -
vocation
– from God and worthy of our very best. Most of us have some sense of God's calling, preparing, and enabling us to do a particular occupation; if we're active at church, at any one time most of us have at least one calling to serve our church community in a particular way, whether our ecclesiastical leader discerned it for us at this time, the congregation elected us, or less formally, we simply offered and they accepted our offer. Long-term interim pastor at church in Previous City exclaimed, "We're not volunteers! We're called!"
Initiating peace indeed can be part of our larger callings as parent, teacher, attorney, church treasurer, or choir director. But God also makes initiating peace an ongoing mini-calling for every one. "It's interactive and...about whoever is near," Kristin insists. So that means not suppressing the voice or the needs of the other to create an appearance of no overt conflict. It means being Jesus' listening, healing, discerning presence. Last fall in the adult Sunday School class I facilitate we talked a lot about neighborology, "the word about the neighbor and our neighbor's claims on us." That would include initiating shalom whenever possible. Can you do it? Can I do it? In the power and presence of the Spirit of Shalom, we can initiate peace together!
Amen?
Amen!