It's high summer in the northern hemisphere—the magical season when we live more casually and openly than in the cooler months. Inspired by her kids' and her own recent experiences of welcoming and being welcomed, Kristin chose
hospitality
as her Porch Stories theme for today; I'll do the same.
Welcome one another, just as Christ has welcomed you, for the glory of God. Wherefore receive ye one another, as Christ also received us to the glory of God. Romans 15:7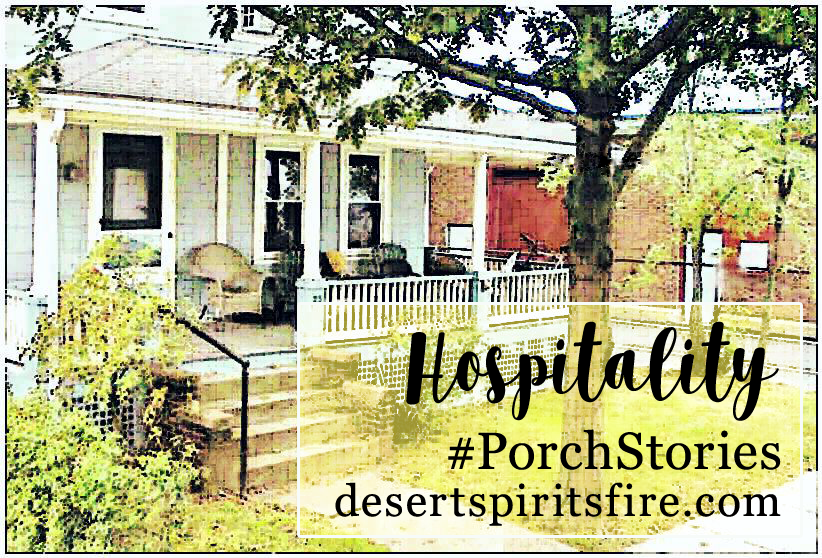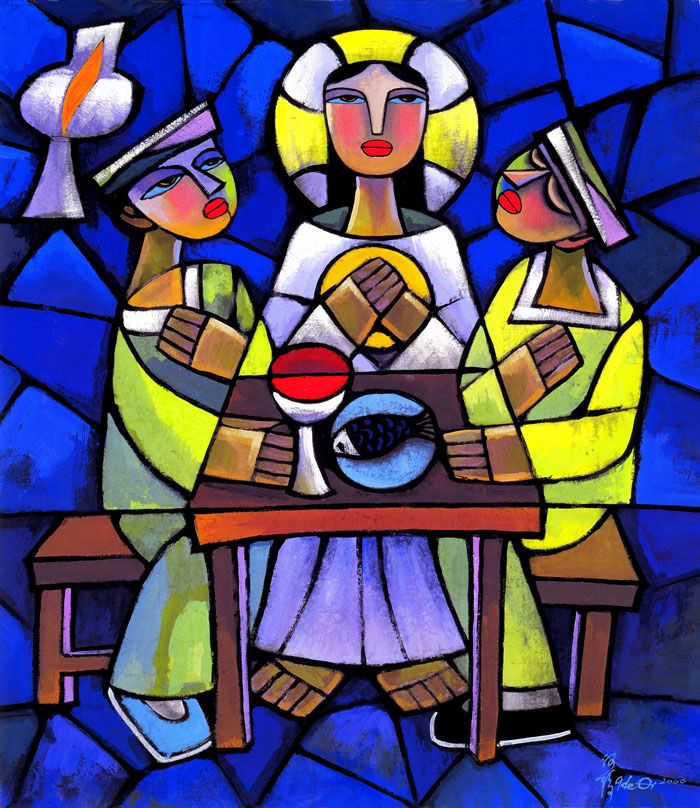 Hospitality
is a central biblical theme. In scripture we learn about Israel's and the Church's essential call and command to welcome the stranger, to make a place for the passerby and passersby, a respite for the sojourner (remember, "resident alien?") in our midst. I've blogged so often about the topic I even have a hospitality label that likely hasn't caught everything I've had to say about it—especially since google/blogger didn't introduce labels until many years after I started this blog.
My intro images are the Hospitality of Abraham trinitarian icon that's above the credence table at one of my San Diego churches. Andrei Rublev drew this icon that illustrates the story of Abraham's three visitors in
Genesis 18:1-15
with the side of the table closest to us wide open: a place for each of us at God's Table of grace! The more recent painting by He Qi illustrates the post-resurrection, Easter evening Road to Emmaus account from Luke 24:13-31 where we meet the risen Christ as simultaneously guest and host. We recognize Jesus as he welcomes us by taking, blessing, breaking, and giving the bread that's his body, the bread that's our lives. And Jesus welcomes us with an open seat on our side of the table. For many months I sat underneath that picture as I facilitated adult Sunday school because I could see the clock from that chair.
Kristin outlined where we are with perfection:
"Hospitality" and "hospital" have the same word origin, so no wonder hospitality heals. Of course, hospitality doesn't have to involve a party. We obviously like parties and gatherings around here. But hospitality can mean making a phone call or sending a text. It may means showing up with a meal or a McDonald's Coke. It's about letting someone in your life and being willing to walk into theirs. Hospitality heals, so let's take care of each other. It really doesn't have to be complicated, so let's jump in together.
Just as with other aspects of life, many of us humans imagine offering hospitality needs to be a major effort-filled endeavor. Most of us don't host or attend a big party very often, but similar to how friends and therapists remind us to appreciate the little things, we need to recognize and rejoice in the smaller, often spontaneous, inevitably fleeting times of welcoming and inclusion we make towards others, that others offer us.
A few years ago at one of the churches where I sometimes used to serve as guest keyboardist, the pastor preached on Jesus' promise, "Very truly, I tell you, the one who believes in me will also do the works that I do and, in fact, will do greater works than these, because I am going to the Father." [John 14:12] Pastor asked a for instance: "Where were you born? Lutheran General? Presbyterian Regional? St. Mary's? Where did you go to school? Concordia? Jesuit High? Holy Family Elementary?" Those examples reminded us what immense impact the many,
many, many
church-related, Jesus-inspired life- and world-changing good works of healing and education have had. And many,
many, many
of us regular people have participated in those more formally organized ministries of healing and education in official capacities as teachers, crossing guards, nurses, lunch ladies, records keepers, janitors, administrators, etc.
But this is a casual summer porch stories. Kristin asked where we're recently seen and provided hospitality?
Will friends and neighbors, strangers, and random passersby be able to identify us as the one who offered them a thirst-quenching cup of cold water Jesus mentions (Matthew 10:42)? A round of cookies for kids at play or girls night out? A bouquet of garden flowers? A handmade, hand-delivered (or maybe even a snail-mailed) greeting card? A welcoming or a consoling hug? I enjoy giving and love having those small acts of hospitality offered to me. In either direction, they say remembrance and care. A decade ago in my formal faith journey I explained, "Both my experiences of inclusion in the community and those of exclusion from the community – especially the community of faith, but also in many places and spaces in the world outside of and beyond the gathered People of God – have been significant to my growth in faith."
Welcome one another, just as Christ has welcomed you, for the glory of God. Wherefore receive ye one another, as Christ also received us to the glory of God. Romans 15:7

Whoever welcomes you welcomes me, and whoever welcomes me welcomes the one who sent me. Matthew 10:40
Yes, welcoming Jesus and the One Who sent Jesus, even in those small, seemingly insignificant transitory ways, because they all add up to more than the sum of the parts; they all contribute to healing and wholeness. Is there an open place at your table, on your porch or veranda, beside your pool, in your cabana? Healthy, whole individual contribute to a whole and flourishing planet. As Kristin encourages, "Let's all jump in together!"