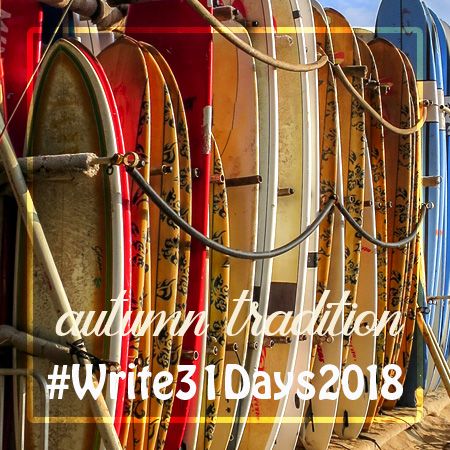 Did I ever mention September and October historically have been the hottest months in Southern California? Yes, I have and they have, too. Just as recent mornings have offered a welcome sweater weather chill, sundown's been earlier and I can't chase away the conviction winter's on the way.
The season of falling leaves from deciduous trees means traditions. The entire writing prompt includes "favorite," but why would you keep on with a custom if it weren't fave? Social and cultural obligations? You may not enjoy the tradition itself, but you love the results.
With the start of school and new clothes, new notebooks, new acquaintances that often become new friends, September is my always new year—that's Autumn Tradition No. 1. Fall Trad No. 2 would be the new jobs I've begun in the fall; surprisingly, none of those start times related to recently finishing an academic course of study during June or August. Another tradition's the backdrop for all of our human ones when planet earth grows weary, slows down, cycles into sleep, sometimes into actual death that's pre-req for resurrection.