write31days2018 • Potpourri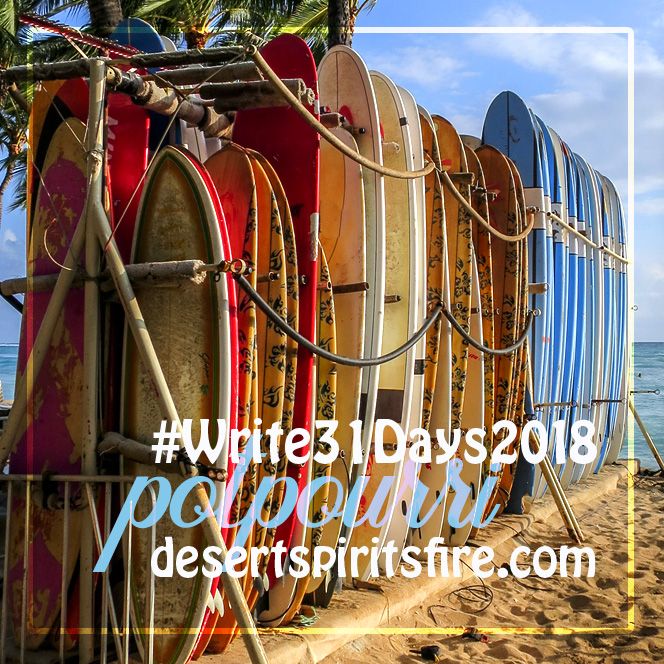 For previous 31 days of October writing challenges, twice I've done a month of 5 minute free writes to provided prompts with a detour each Friday to the FIve Minute Friday word of the day. Last year I fulfilled a very long-time dream and blogged a daily spaces and places that included a guest blog about West Virginia; October 2017 still awaits a promised guest post about Myrtle Beach—or maybe Pittsburgh, depending on Malinda's final decision.
With a literal potpourri of terms that refer to a miscellaneous collection, choosing the series title was a bit tough. Besides potpourri, I most seriously considered medley and patchwork.
I'm creating a potpourri from two list of prompts our host Crystal Stine provided; for neatness' sake I chose which one for what day beforehand, yet I claim the right to write about something else when the day arrives. Already I suspect day 31 will be Reformation 501 or All Saints Eve/Halloween, rather than
What I learned from writing every day for a month
or
treat
. Most likely I'll revisit Reformation Day because it will be #Reformation501 and I'm such a church and liturgy geek.
• October 01 Autumn

• October 02 Friendship

• October 03 Sweet Spots

• October 04 A New Place

• October 05 Gold

• October 06 Saturday

• October 07 A Teacher...




• October 10 Boots

• October 11 Autumn Tradition

• October 12 Praise & Five Minute Friday

• October 13 Talk

• October 14 Window

• October 15 When


• October 17 Pause


• October 19 Who & Five Minute Friday